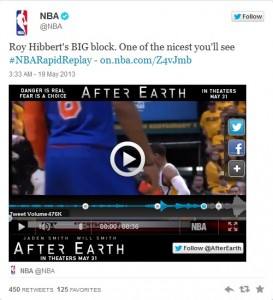 Twitter has revealed its latest marketing tool Twitter Amplify which allows media companies to promote small video clips, for example sports highlights, which are accompanied by a brief video ad as a pre- or post-roll.
Launch partners for Twitter Amplify include the likes of Clear Channel, New York Magazine, VEVO, Warner Music, and VICE, as well as broadcasters BBC America, FOX, Fuse and The Weather Channel.
Speaking via Twitter's blog, Glenn Brown, director, promoted content and sponsorships at Twitter commented: "We think these types of two-screen sponsorships are a win-win-win. Users receive spectacular, timely content that rounds out their TV experience or reminds them to tune in."
ESPN and Ford have already been taking advantage of the service bringing sports fans instant replays of college games via tweets with a Ford ad lasting a few seconds shown before the footage. Rapid Replays of the 2013 NBA Finals are also being pushed via Twitter thanks to Sony Pictures, Sprint and Taco Bell advertising.