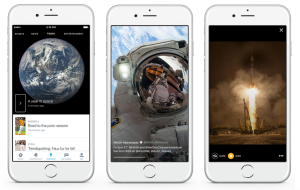 Twitter has announced a new curated news feature called 'Moments' which aims to connect users with up to the minute current events from around the world by gathering together the most relevant tweets into a specialised feed.
The feature is the result of the company's Project Lightning, which was revealed earlier in 2015, and will add a new tab to the Twitter app which will open a list of up-to-the-minute Moments. As new stories emerge throughout the day, editors will update the list, and users can fine tune the content they see by selecting topics like entertainment or sport.
Each Moment will include full-bleed images, videos, Vines and GIFs, aimed at delivering news in a visually engaging way, as well as a selection of the most relevant tweets on the topic, conversations between figures involved and citizen reportage. Users will be able to favourite or retweet individual tweets or moments as a whole, as well as sharing them with friends.
Moments will largely be assembled by Twitter's own curation team, but content by other publishers including Buzzfeed, Fox News, NASA, the New York Times and Vogue will also be included, with plans to expand to more partners in the future.
The feature will initially be rolled out in the US across Android and iOS, as well as desktop web, although people will be able to share content internationally from the get-go.
"Every day, people share hundreds of millions of Tweets," said Madhu Muthukumar, product manager of Moments at Twitter. "Among them are things you can't experience anywhere by on Twitter: conversations between world leaders and celebrities, citizens reporting events as they happen, cultural memes, live commentary on the night's big game, and many more.
"We know finding these only-on-Twitter moments can be a challenge, especially if you haven't followed certain accounts. Moments helps you find the best of Twitter as easily as tapping an icon – regardless of who you follow."