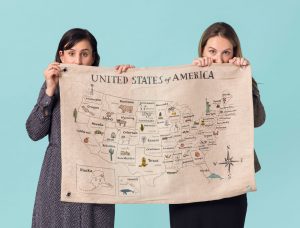 Ueno, a full-service creative agency, announced the hiring of Gillian Rode and Pen Stanton as Executive Producers in the agency's San Francisco and New York offices. The two will lead client services and project management in their respective offices.
Rode joined Ueno from fuseproject where, as a Program Director, she oversaw a team of project managers who handled complex multidisciplinary work across hardware, software, services, and retail design for a global Fortune 100 client.
During her four-year tenure with fuseproject, she worked with clients including Sodastream, Kodak, Jet (during its Walmart acquisition), iRobot and Tile, among others. Prior to moving into the digital creative sector, Rode was part of the design program team at the Cirque du Soleil in Montreal.
"The growth mindset that the agency has aligns perfectly with my expertise, and I'm excited to help Ueno scale," said Rode.
Stanton joined Ueno after working in the San Francisco Bay Area as a strategic consultant for small and early-stage startups on business growth and product development. Prior to consulting, Stanton worked alongside Rode at fuseproject as an Account Director, overseeing the day-to-day operations of the agency's accounts. Stanton is also a classically trained soprano and soloist singer.
"Halli is a visionary and I'm thrilled to be part of an agency that is at the forefront of creating the next evolution of digital experiences," stated Stanton.
"Gillian and Pen both bring a wealth of experience and potential to the team at a time when Ueno is seeing significant growth," said Haraldur 'Halli' Thorleifsson, CEO and Founder of Ueno. "They are natural leaders and perfect fits for the agency we are today and what Ueno will become in the future. I'm delighted to have them both on our team and look forward to seeing their experience, originality, and creativity flourish."
Source: Ueno