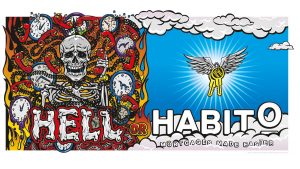 Habito, the pioneering online mortgage broker, has unveiled a new advertising campaign 'Hell or Habito'. The bold new advertising campaign, which launches on 10th September, juxtaposes the hellish confusion, cost, time and stress traditionally associated with the mortgage application process with the simpler, easier and less stressful experience enjoyed by Habito customers.
The integrated campaign, created by Uncommon Creative Studio, uses loud, colourful and humorous creative to cut through the typically drab world of mortgage-related advertising.
The poster ads feature illustrations by California-based artist, Jimbo Phillips, who drew on skateboarding iconography and his signature Santa Cruz pedigree to tell a story of two halves: on one side a graphic and comically-grim vision of mortgage hell, on the other, a depiction of fluffy clouds, celestial rays and winged house-keys destined for homeowner-heaven.
The integrated campaign will launch across OOH from 10th September. TV and Online will be rolled out from 24th September.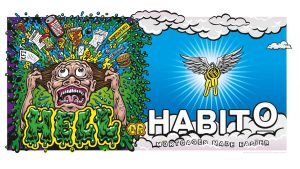 Abba Newbery, Chief Marketing Officer at Habito said: "Habito is disrupting an industry that has remained unchanged and unchallenged for a generation. We wanted to create a campaign that would leave people in no doubt that they can and should expect more; that getting a mortgage shouldn't be hell, that there is a better way."
Nils Leonard, Uncommon founder, added: "Habito are exactly the sort of brand Uncommon love working with. They're ambitious and innovative, removing compromise and taking the pain out of the infamously hellish mortgage category. We wanted some work that would dramatise what Habito brings to the party in a new way, working with an icon like Jimbo to disrupt the flat and corporate world of mortgages."
Source: Uncommon Creative Studio