On April 1 United Biscuits will launch the latest iteration of its McVitie's Sweeeet ad series for new biscuit brand DeliChoc.
The £1.7m ad campaign, created by Grey London and directed by NEO, will kick off with a 30-second advert on ITV and Channel 4, and will once again feature a cuddly animal, this time an alpaca.
The ad features a group of students studying in a library as they break open a box of McVitie's DeliChoc. As they slide open the tray, an alpaca pops out to the theme tune of 1980s TV programme Grange Hill.
The ad forms a key part of a campaign plan similar to the one McVitie's employed last year which has seen a total investment of over £17m in a bid to modernise and drive fame for the brand. In 2014 the masterbrand campaign boosted sales by three per cent and accounted for a 26 per cent rise in the McVitie's value share of the total biscuit market.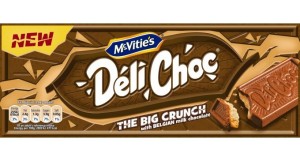 United Biscuits is hoping to emulate the success the DeliChoc brand has already seen in Europe. The product has been on sale in Belgium for 58 years and France for 36 years, and is currently the third best performing product in its category in France.
United Biscuits Sweet Biscuits marketing director, Sarah Heynen said:
"We've decided to introduce the alpaca in to the fold, as the star of the new McVitie's DeliChoc advert, to represent the overwhelming delight consumers feel when they bite in to this intensely crunchy, chocolatey biscuit. Our aim is to extend the McVitie's Masterbrand into new eating occasions by offering even greater variety to consumers. The launch of new McVitie's DeliChoc in to the UK will provide a great alternative sweet treat to many traditional products available. We hope that the launch of DeliChoc marks the beginning of another fantastic year for McVitie's."