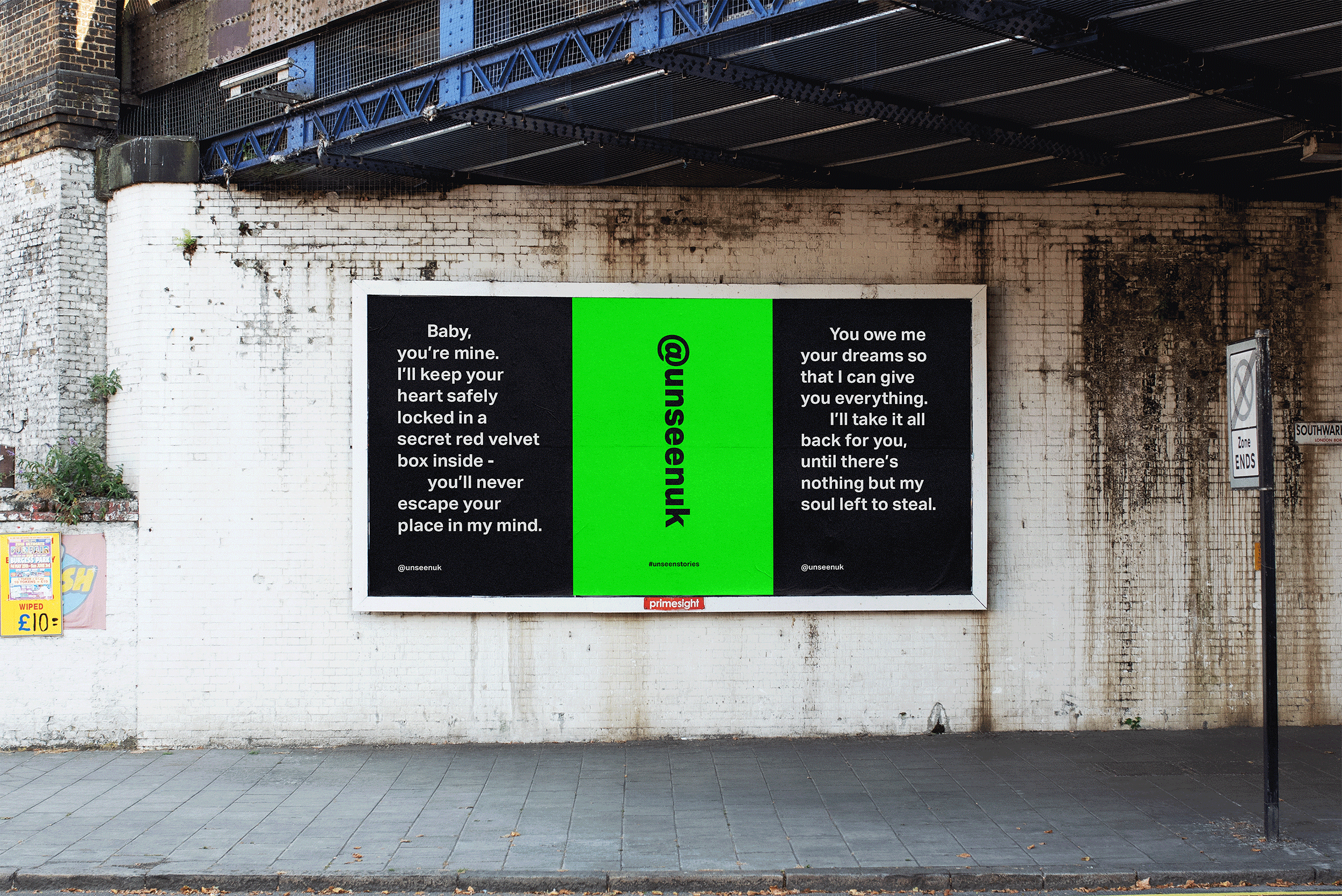 Anti-slavery charity Unseen is launching a striking new campaign to help raise £800,000 to save their Modern Slavery Helpline which is threatened with closure.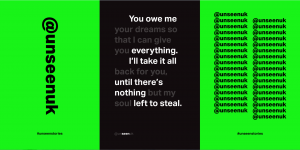 The powerful new OOH and social media campaign by London creative agency Aesop, entitled #UnseenStories, builds to Anti-Slavery Day 2019, on Friday 18th October, with a call to the public to change their profile picture on social media to fluoro green as a statement of solidarity for the unseen victims of modern slavery in the UK.
The #UnseenStories campaign uses a carefully considered design and a surprising story-within-a-story technique based on real survivor stories to expose the lies told by those who prey on potential victims.
The stories are being posted on lenticular billboards and posters across Britain, as well as on social media, using the hashtag #UnseenStories.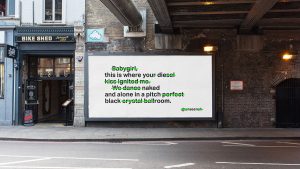 Each story changes from abstract poetry to unsettling reality. For example, the romantic phrase: "I lost myself to the nightlife and bright lights in London", transforms into the stark and unsettling: "I lost my life in London."
In Bristol, where Unseen was founded, bright green projections will light up homes across the city, highlighting the often 'hidden-in-plain-sight' nature of modern slavery.
This scattering of green light across the city will be activated in partnership with local production agency, Okoru Events. Type foundry, Dalton Maag has donated the typeface to the campaign.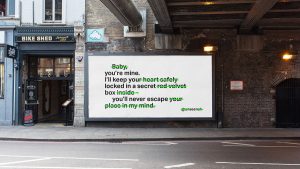 Jonty Harbinson, Creative Director, Aesop, said: "We were inspired by 'insta-poetry' online that romanticises toxic relationships and escapist fantasies. There was something unsettling about the parallel between this kind of poetry and real-life stories of survivors."
Paul Zeidler, Creative Director, Aesop, said: "When the CEO of Unseen, Andrew Wallis, told us about the funding cut, we knew we had to create something that demanded the public's attention because without the existence of the Modern Slavery Helpline, these victims' stories would remain unseen."
More than 7,100 suspected victims of modern slavery were identified across the UK in 2018 alone, with Romanian nationals comprising the largest victim group.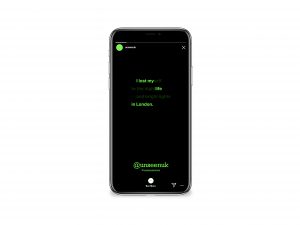 Unseen runs the UK's independent, confidential, 24/7 specialist hotline for anyone wanting to seek help or report modern slavery. Unseen is currently privately funded by voluntary sources including trusts, policing authorities and corporate sponsors.
But the charity says that political uncertainty and tough economic circumstances have seen this funding fall putting the charity, its Helpline and, most importantly, thousands of modern day slaves in peril.
According to the UK Home Office (2014) there are believed to be tens of thousands of potential victims of modern slavery in the UK. The highest number of cases are in London. Since the helpline's launch in 2016, over 15,000 modern slavery victims have been identified.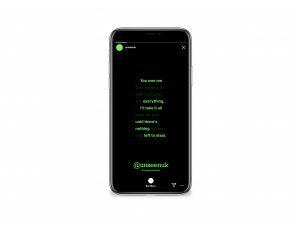 Andrew Wallis OBE, Chief Executive of Unseen, said: "Without the Modern Slavery Helpline, thousands of men, women and children across the UK will remain enslaved and unseen. For thousands of people trapped in slavery, our Helpline is the only way out. If the lines go dead, hope will die with them. We hope the #UnseenStories campaign will remind people that there are 1000s of victims of modern slavery, often hidden in plain sight, that need their help and will support us by donating and showing solidarity by changing their social media to fluoro green."
Nick Dutnall, Managing Partner at Aesop Agency, said: "Ever since we heard about the work done by Unseen we've been keen to get involved. The victims of modern day slavery don't often get to tell their story so we wanted to do it for them. Shining a light on to this issue is an absolute must and we're really proud of the #UnseenStories campaign."
Source: Aesop