WRG, a division of The Creative Engagement Group (TCEG), has created a new campaign concept and toolkit for CitySuites, the luxury serviced apartments provider, which will guide the business's communications across print, digital and activations throughout 2019.
CitySuites, based in the heart of Manchester, is a new concept in the luxury serviced apartment market offering clients a home away from home that is spacious, thoughtful and personalised.
Building awareness of the CitySuites brand amongst leisure and corporate travellers is a key aim for the brand over the next 12 months.
WRG, developed the over-arching campaign theme – 'Space to Live' to bring to life the enhanced experience that CitySuites offers to their guests.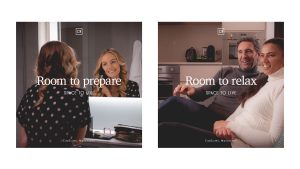 The agency developed a suite of branded assets for CitySuites to deploy across all its communication channels. These include: edited and coloured photos, including bespoke photography; design guidelines; usable lines and headlines; a four-minute video, a one-minute video; and initial activation ideas for key events in 2019.
The 'Space to Live' strategy is WRG's first work since being appointed to work for the CitySuites brand.
Tara Homayounbod, Marketing Manager at CitySuites, said: "CitySuites offers its customers a personalised urban sanctuary. This new campaign is all about raising awareness of the fact that our luxury serviced apartments are more than a room to stay, they are a place to live."
Richard McAleavy, Client Engagement Director at WRG said: "CitySuites is a brand leading the luxury serviced apartments market with a more contemporary and stylish, flexible and tailored approach which we believe is clearly reflected both by the look and tone of our work and our toolkit approach."
Source: WRG