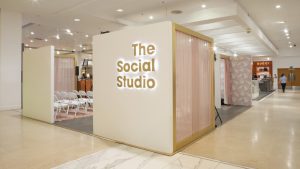 Live experiences agency WRG, a division of The Creative Engagement Group, has put together a luxury pop-up installation to celebrate the opening of the newly refurbished Selfridges Beauty Hall in Manchester's Trafford Centre.
For five days, from 10th to 14th October, The Social Studio will provide a bijou venue for events, workshops, and meet-and-greets. It will also provide a private space where VIP social media influencers can record their own beauty content in style.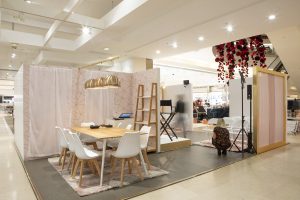 Selfridges' Social Studio has been divided into three sections. The largest will be used as a flexible workshop area where influential insiders from the beauty industry will be invited to speak to a select audience.
The other half of the pop up is divided into two comfortable spaces, one offering a small seating area that can be used to host more intimate talks, and the other providing room for two private recording booths.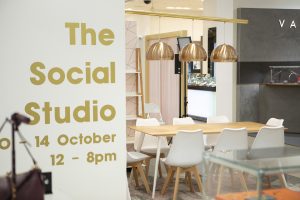 WRG's design was inspired by the look of the new beauty hall, and embraces the trend for popular "instagrammable" spaces that use high end finishes and fresh, modern colour pallets to create a luxurious environment.
Mark Jackson, Head of Environments at WRG, said: "The rise of the pop-up store phenomena is giving brands a perfect opportunity to create agile experiences in a retail environment. They capture and engage their customers, targeting moments in time that complement their wider marketing campaigns. We are delighted to be working with Selfridges on this opportunity."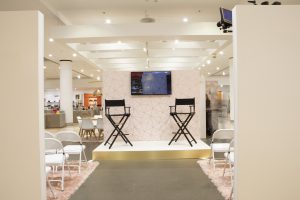 Selfridges has just opened its newly refurbished Beauty Hall in the Trafford Centre, introducing more than 80 new brands, 1500 shades of foundation and 3000 lipsticks. There will also be personal shoppers called Beauty Insiders on hand to guide shoppers through the space, and share the inside scoop on the latest launches.
Vicki Cain, General Manager at Selfridges Trafford, said: "We've put a lot of time and energy making the Beauty Hall a memorable shopping destination, and we needed the perfect space to showcase the new experience it provides. WRG's pop up Social Studio provides a flexible and fun environment for customers and influencers to enjoy the surroundings, participate in events and make the most of everything we have to offer."
Source: WRG