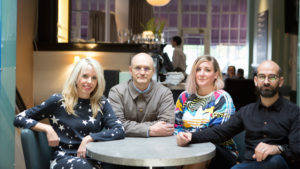 Wunderman London, a WPP company and leading global digital agency, celebrates "a year of solid growth" with a strengthened management line-up and a fresh appointment after being awarded major accounts from BT, EE and Samsung as well as achieving substantial client growth across the agency's portfolio.
Having joined the agency in 2013, Pip Hulbert steps up from Chief Operating Officer to CEO in recognition of the instrumental role she has played in the agency's development. Pip played a pivotal part in leading the agency to victory this year – helping secure the BT and EE consolidated direct marketing and CRM account, one of the biggest in the industry, She has also been vital in developing another of the agency's largest clients – the global Shell retail CRM and loyalty account. In her new role, she will be responsible for the leadership of the entire London business, reporting into Stephan Pretorius, who recently became CEO of Wunderman Group UK.
Whilst continuing to advise clients across the UK and EMEA as Chief Strategy Officer, Richard Dunn steps into the role of Chairman where he will further drive the quality of the agency's entire output. Appointed in recognition of his business acumen and his passion for delivering strategic and creative excellence over the last four years, he will be responsible for driving the evolution of the Wunderman offering.
After one of the most successful creative periods in recent years, Ian Haworth, previously Executive Creative Director (ECD), becomes Chief Creative Officer and will oversee the agency's complete creative offering, drive award-winning work, spearhead the quest for the best talent, and focus on driving value for the agency's biggest clients across the UK and EMEA.
Ian has passed his day-to-day responsibilities over to new hire Abi Ellis, who joins as ECD, starting in early December. Abi moves over from the agency Cult, where she was Creative Director across London and New York. Honing over 20 years' experience in the creative industry, Abi will be responsible for leading the creative operation within the London office.
Stephan Pretorius, CEO of Wunderman Group UK, said: "This is an exciting time for Wunderman London, with a year of solid growth, strategic acquisitions and partnerships placing us in a unique position to deliver the services businesses need to succeed in today's digital economy. By strengthening our core leadership team, and by appointing Abi, who brings with her industry-leading creative experience, we are well placed to deliver deep business transformation to clients, old and new."
Mel Edwards, CEO of Wunderman EMEA, said: "I'm really excited to see the evolution of the London team and couldn't wish to have a better group of people running the business, driving growth and championing the agency's culture, with the ambition to be one of the best places to work. Pip, Richard and Ian have all been with the agency for a number of years and now with Abi onboard I have no doubt that the new line-up will further establish our credentials as one of the world's leading digital agencies."
Source: Wunderman London