Print execution shines a light on the need for inclusive design in all areas of our lives, and at all times  
Wunderman Thompson has devised a hard-hitting, one-day print campaign for Sure which emphasises the need for inclusive design in all areas of our lives. Running in the Telegraph, Metro, the Guardian and the Times, the ad reads: "The world is a great place for people with disabilities*"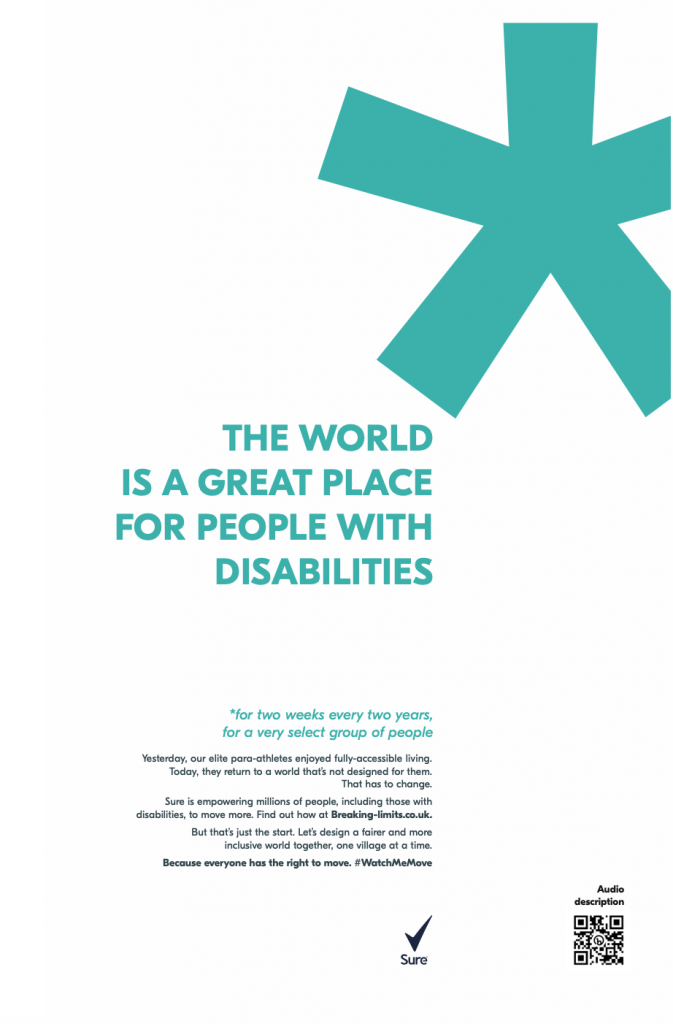 The emphasis is on the big asterisk – or caveat – with the small print beside it reading: "For two weeks every two years, for a very select group of people."
And it continues: "Yesterday, our elite para-athletes enjoyed fully-accessible living. Today, they return to a world that's not designed for them. That has to change… Let's design a fairer and more inclusive world together, one village at a time." It also includes a QR-code linking to audio-description for those with visual impairments.
The print execution builds on the brand's push for inclusivity, which is being supported by the Sure Breaking Limits Programme – and sees Sure partnering with eleven Non-Government Organisations (NGOs) to help empower young people who face the biggest barriers to being active.
This latest campaign is also in line with Unilever's broader 'Unstereotype' mission and comes as its global campaign, 'Watch Me Move', features an emotive film shot by a diverse group of eight content creators and athletes – celebrating the authentic stories of those who defy society's ability standards.
As the first agency to build an Inclusive Experience Practice (IXP), Wunderman Thompson partners with some of the world's largest brands to help create accessible products, services and communications using inclusive design methodology – ultimately leading to competitive advantage and increased growth potential.
Bas Korsten, Global Chief Creative Officer, Wunderman Thompson explains: "15 percent of the world's population has some form of disability. But despite that incredible number, the world hasn't been designed to include the biggest minority out there. That's why it's so important that Sure is raising this issue and, together with partners, is doing something about it at scale. 
"But it's going to take a change in mindset for all of us to truly create a fairer and more inclusive world for everyone. Because 'not inclusive' is exclusive."
Kathryn Swallow, Global Brand Vice President Rexona at Unilever, comments: "No matter where you look, people with disabilities lack representation. They are judged for their differences. We're aiming to change that. We hope that work such as this will inspire more brands to take an inclusive and accessible approach to ensure that people with disabilities have an equal playing field."
Unilever is committed to advancing portrayals of people in ads and drive positive change worldwide to help influence the next generation to be free from prejudice. By 2025, Unilever will have 5% of its workforce represented by persons with disabilities. 
Credits
Sure, One Village at a Time.
Tom Drew, Executive Creative Director, WT UK
Tyler Hendy, Global Design Lead
Paul Grainger, Head of Studio, WT UK
Natalia Benincasa, Chief Creative Officer, WT Argentina
Gastón Canaves, Creative Director, WT Argentina
Agustín Alba, Creative Director, WT Argentina
Unilever, Client
Kath Swallow, Global Brand Vice President Rexona
Emily Heath, Global Senior Brand Manager
Stephanie Bau, Global Assistant Brand Manager
Charlotte Hussey, Sure UK Assistant Brand Manager
Ines Rodrigues, Sure UK Brand Manager
Source: Wunderman Thompson