What went into the making of this year's #RethinkRemembrance ad? Find out as we peak behind the scenes. https://t.co/sY8heYUWik pic.twitter.com/4FWC2NlqCC

— Royal British Legion (@PoppyLegion) November 7, 2017
The Royal British Legion has unveiled a new campaign highlighting the importance of Remembrance and stressing how it is just as important and relevant as it has ever been. The campaign celebrates the unique contributions made by the entirety of the Armed Forces community both past and present.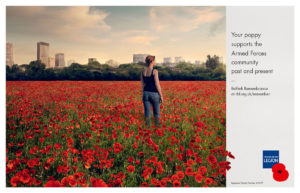 Rethink Remembrance, created by Y&R London features both a 30second TV ad recreating the Flanders' Fields poppies in modern environments. The TVC features the poppies growing in modern day environments such as the local swimming pool, a hospital and café. Over the top of the visual is a narration of John McCrae's famous poem In Flanders Fields. The advert finishes with the poignant strap line 'Your Poppy supports the Armed Forces community past and present.'
The TV campaign is supported by a series of print adverts featuring members of the public undertaking activities such as waiting for the tube, eating at a restaurant and walking in a park. Just like Remembrance itself the campaign encourages the viewer to bring their own interpretation to the activity.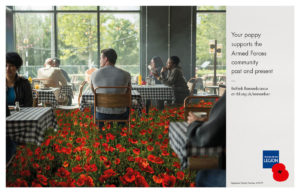 The National TV campaign breaks on 4th November, in the build up to Remembrance on 11th November, and Remembrance Sunday. The TV and Print campaign is supported by digital and social activity on channels including Facebook, Instagram, Twitter and YouTube. This activity features the poppy animation, crafted for TV, delivering both brand and fundraising messages.
Jon Burley, chief creative officer at Y&R London commented: "Remembrance is one of the most important moments in the year. It is a time for people to stop and think about the sacrifices made by our Armed Forces every day to keep us safe. The campaign is deliberately created to make the viewer stop and think by picturing the rows of poppies as they continue on through their daily lives."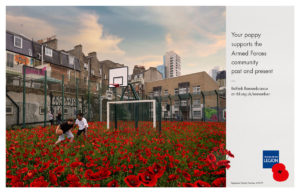 Gary Ryan, Director of Remembrance and Marketing at The Royal British Legion added: "As the champions of Remembrance it is imperative that we remind people that it is as relevant today as it has always been. It is a time of year where we are able to show our support to all of the Armed Forces community past and present."
Source:Â Y&R London