The UK Lesbian and Gay Immigration Group (UKLGIG) launched its first national social media campaign #LendYourVoice, which aims to raise awareness of the discrimination and dangers that LGBTQI+ people face in UK detention centres.
Partnering with 28 LGBTQI+ celebrities and influencers, the campaign sees powerful voices within the LGBTQI+ community share the stories of LGBTQI+ people who have been held within the UK immigration detention system.
Celebrities and influencers involved in the campaign include Great British Bake Off star Rav Bansal, author Juno Dawson, comedian James Barr, model and activist Jamie Windust, and singer and performer Toya Delazy.
The UK is the only country in Europe to not have a time-limit on how long people can be kept in detention, and every year unknown numbers of LGBTQI+ people fleeing persecution on account of their sexual orientation, gender identity, gender expression or sex characteristics are locked up for indefinite periods of time in detention centres where bullying, abuse, and harassment are rife. Despite the recommendation of Parliament's Human Rights Committee, the Home Office announced at the end of July that they would not be introducing a time limit.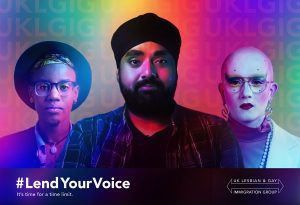 As well as offering this glimpse into the harsh realities faced by LGBTQI+ people in detention centres, the films will encourage audiences to lend their voices to the campaign by a digital petition and express their support using the hashtags #LendYourVoice and#Time4aTimeLimit.
The films, created by Tribal Worldwide London and Cain&Abel, will launch throughout September on Twitter.
Rav Bansal, GBBO Baker and Broadcaster, said, "People shouldn't have to run away from their homes because of who they are, only to be held indefinitely when they reach safety. The UK is the only country to not have a time limit on detention, and I'd urge everyone to lend their voice to this campaign and tell the Home Office it's time for a time limit."
Leila Zadeh, Executive Director, UKLGIG, said "Indefinite immigration detention is inhumane and has a considerable negative impact on the mental health of almost every person, but for LGBTQI+ asylum seekers, there are particular hardships to bear. In countries where same-sex relations are criminalised or where discrimination against LGBTQI+ people is widespread, lesbian, gay, bisexual, trans, queer and intersex people are often excluded by society and may face prosecution, harassment or violence. Inside detention centres, they often experience prejudices or conditions similar to those from which they have fled. We urge MPs to support amendments to the immigration bill this autumn to bring in a 28-day limit to detention and ensure fair treatment for people escaping persecution just for being who they are."
Victoria Buchanan, Executive Creative Director, Tribal Worldwide London, said: "The #LendYourVoice campaign is an urgent call to arms for anyone sympathetic to the plight of other people put into unnecessarily punitive conditions whilst already escaping danger in their home countries. We're so proud that so many influencers gave up their time to contribute to our campaign, and really hope people engage with the issue and help us fight for such a basic and worthy amendment to UK law."
Source: Tribal Worldwide London