Lushly illustrated and animated series, 'Rich Taste, Less Waste' tells the story of Cambio's eco-friendlier, easy-to-recycle coffee pods
Cambio Roasters (Cambio), the fair trade, easy-to-recycle coffee pod company on a mission to reduce waste caused by single-serve coffee consumption, is launching its first-ever national brand campaign and platform, "Rich Taste, Less Waste." Cambio was founded by Kevin Hartley, former Chief Innovation Officer of Keurig-Green Mountain, who left his job in 2017 with one purpose: To come up with an eco-friendlier solution for the over 30 million coffee pods that end up in landfills, daily.
Terri & Sandy: Cambio Roasters / House Blend – Armando Veve from Terri & Sandy on Vimeo.
One year later, he and his partner Ann Hutson, a life-long communications executive, launched Cambio, which in Spanish, means "change." Now, the sustainable coffee pod brand, filled with high-quality small-batch roasted Arabica coffees, are sold nationwide (online and in select retail locations), with 20% of profits contributed to coffee-farming families.
Created in partnership with independent agency Terri & Sandy, brought on last summer as Cambio's first agency of record, the new "Rich Taste, Less Waste" platform comes to life through three visionary illustrators carefully chosen to capture Cambio's earth-friendly message and the impact its fully recyclable coffee pods could have on the world.
Terri & Sandy: Cambio Roasters / Colombian – Joe Taylor from Terri & Sandy on Vimeo.
The artists (Maggie Stephenson, Joe Taylor, and Armando Veve) were given the freedom to bring their unique visions to the campaign. The illustrations were then transformed into a series of animated videos, each spotlighting a different product and a different aspect of Cambio's unique journey. Terri & Sandy called on Colombian composer Andrés Navarro to develop unique pieces of music for the spots, featuring instruments and sounds from each coffee variety's native region.
The work will run across digital and social channels across North America, and coincides with Cambio's product expansion into new markets across the U.S. In addition, the illustrative look and feel will come to life across all brand touchpoints, including its uniquely compostable packaging.
Terri & Sandy: Cambio Roasters / Special Dark– Maggie Stephenson from Terri & Sandy on Vimeo.
"Being able to work with Terri & Sandy again has been amazing," stated Kevin, Co-Founder of Cambio Roasters. "Their team has developed breakthrough creative that brings our small but deserving environmentally conscious brand to life. We're thrilled with the results."
"We knew that in order to make an impact, this campaign would have to be different from anything else in the already crowded coffee category," said Jenna Zink, Creative Director at Terri & Sandy. "This was truly a passion project for us. Kevin and Ann are dream clients: creative, energetic, and supportive–and they encouraged us to bring a truly original, artistic point of view to the brand."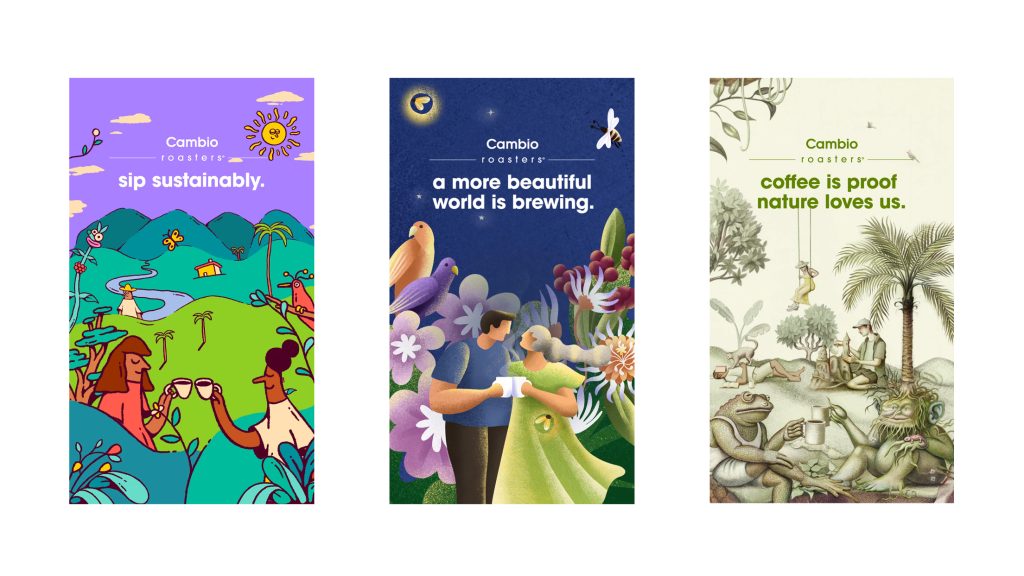 About the artists:
Born in Poland, raised in Germany, Maggie Stephenson is an artist and illustrator based in Florida, USA. She works as an illustrator for magazines, advertising and other publishers. Her work is influenced by her European upbringing and travel, and she derives inspiration from the human connection and nature, combining rich textures, vivid colors and shape play.
Joe Taylor is a British animator and illustrator based in Berlin. His visual world is surreal and funny. Originally a graphic designer, Joe has worked with clients around the world including Apple, Netflix, TED, Berliner Zeitung, and FXX. Recently he has been enjoying working on music videos, gifs, logos and educational animations, as well as experimenting with sound design and game design.
Over the last decade, Armando Veve has created drawings for publications including The New Yorker, National Geographic, The Atlantic, and Scientific American that dissect and explore subjects from fragile ecosystems and genetically modified foods to pop cultural icons and flying cars. He has also collaborated with studios across the globe including puzzle and games creator Art of Play and Cartoon Network's Adult Swim, and with authors and publishing houses on illustrated book projects from middle grade fantasy to adult non-fiction. In 2021, he completed work on his first permanent public art installation commissioned by MTA Arts & Design. His drawings have been recognized by American illustration, Communication Arts, Spectrum, and the Society of Illustrators in NY. He was named an ADC Young Gun by the The One Club for Creativity and selected to the Forbes 30 under 30 list. He studied illustration at the Rhode Island School of Design and currently lives and draws in Philadelphia.

CREATIVE CREDITS: CAMBIO ROASTERS | RICH TASTE, LESS WASTE
CLIENT: Cambio Roasters
AGENCY: Terri & Sandy
CLIENT: Cambio Roasters
Co-Founder: Kevin Hartley
Co-Founder: Ann Hutson
Acting COO: Mike Cunningham
LEAD CREATIVE & STRATEGIC AGENCY: Terri & Sandy
Co-Founder & Co-CEO: Terri Meyer
Co-Founder & Co-CEO: Sandy Greenberg
Creative Director, Art Direction: Jenna Zink
Creative Director, Art Direction: JP Gomez
Senior Copywriter: Rebecca Baldwin
Senior Art Director: Emily Swenson
Creative Director, Copywriting: Todd Condie
Art Director: Yuliya Kosheeva
Senior Art Producer: Tania Pirozzi
Head of Strategy: Tracy Chapman
Account Supervisor: Matthew Klesel
Special Dark Video / Illustration
Making Pictures
Illustrator: Maggie Stephenson
Animator: &Orange Motion Design
Producer: Grace Bird
House Blend Video / Illustration
Levine/Leavitt
Illustrator: Armando Veve
Animator: James Kerr
Producer: Mandi Wexler
Colombian Video / Illustration
Illustrator & Animator: Joe Taylor
MUSIC: Andres Navarro
Source: Terri & Sandy