Andrew Pemberton has been appointed as permanent Director of Communications and head of the communications profession at HM Revenue and Customs (HMRC), taking up the role with immediate effect.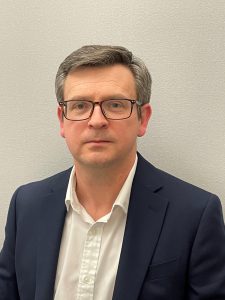 He has been interim director since October 2021 and previously led HMRC's Customer Strategy and Tax Design communications team.
Andrew brings a wealth of experience to the role, having previously held marketing and communications director positions at the Crown Commercial Service and in the UK higher education sector. Prior to this, he had a 16-year career as an officer in the Royal Air Force, where he undertook operational leadership and specialist media and communications roles.
Working as the Interim Director of Communications, Andrew set out an ambitious new communications plan and brand proposition. Now that he has been appointed permanently, Andrew will work with communications colleagues to deliver the plan – supporting the department's vision of being a modern and trusted tax and customs department.
Jim Harra, HMRC's Chief Executive and First Permanent Secretary, said:
"I am delighted that Andrew has accepted the Director of Communications position with immediate effect.
"I am confident that, through his leadership of HMRC's communications function, we will tell a compelling and consistent story about how HMRC is focused on providing the best possible service for our customers, stakeholders and colleagues."
Andrew Pemberton said:
"I am very pleased to be appointed as HMRC's new Director of Communications. It's an exciting time for our communications teams as we focus on delivering our new communications plan, and there are some fascinating communications challenges to tackle together in the years ahead.
"I'd like to thank my Executive Committee and communications colleagues for their ongoing support. I look forward to continuing the work we have started – building a great communications team at HMRC and developing impactful communications campaigns for our customers and colleagues."
Andrew's priorities for 2022 to 2023 include:
executing HMRC's new communications plan, which will play a central role in helping the department deliver its core purpose and achieving its vision of being a modern and trusted tax and customs authority
building a results-focused communications function which is admired across the public and private sectors, and a great place to work for communications professionals
and supporting a broader cross-government response to emerging challenges as part of the Government Communications Service
Andrew will become a regular attendee at HMRC's Executive Committee and will be based at 1 Unity Square, HMRC's new Nottingham Regional Centre, which opens in mid-April.
Source: HMRC