Socially responsible and sustainable Dutch bank ASN Bank has released its third commercial with creative agency Selmore and creative production studio Ambassadors, this time moving its animated world from the 'fable forest' to the sea for a story about sustainability and a cleaner world.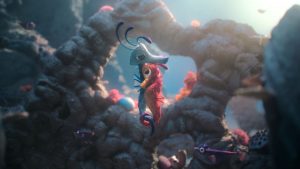 "At ASN Bank, we're committed to making decisions that will help grow a new, cleaner world that future generations can enjoy. To gain progress with sustainability, we invite everyone to participate," says Pieter Smeets, marketing director, ASN Bank.

ASN Bank is known in the Netherlands for its socially responsible ethos and actions, with its guiding idea of 'money can create happiness' representing its commitment to driving a banking community that makes choices for a new, cleaner world.

The romantic story follows the PVC-Horse in its breakout role, distracted by the drifting disposables in the ocean on her search to find a mate for life. The character was inspired by a viral image taken by wildlife photographer Justin Hofman showing a seahorse dancing in the ocean with a Q-tip.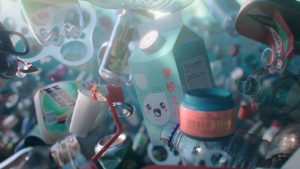 "It's an image that shows so simply how our habit of using cheap, disposable plastics is affecting our environment, and it was inspiring to dream up the fable behind an existing nature photo," says Diederick Hillenius, creative partner, Selmore. "With this third film we were able to enrich the fable world of ASN Bank yet again by bringing new characters into the family, and to come up with new magical environments for them to live in."

Vincent Lammers, creative director and partner at Ambassadors adds: "At Ambassadors we were very excited to design an underwater scene that feels like a part of the world we'd already created for ASN Bank, yet was surprising and different. With The PVC-Horse we're close to the design principles we've developed for the earlier films by focussing on real, tactile materials like sequins for the scales. We can't wait to continue to explore the world of ASN Bank through new characters and locations."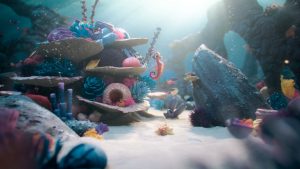 In line with the sustainable message of the campaign, Selmore and Ambassadors aimed to produce the campaign in the most sustainable way possible. Not only could the miniature set be re-used for future product films, but attention was given to using biodegradable materials.

ASN Bank first partnered with Selmore and Ambassadors in 2017 on the Creature of Habit which encouraged people to change up their old banking habits, with the Mayfly later joining the animated world to inspire people to look up from the day-to-day and consider their future finances.
Source: Selmore