Blood cancer charity Anthony Nolan has launched a new film to increase  the public's understanding of the lifesaving work it does, and drive financial support. The film called 'Without You' tells the story of a young woman looking for someone special – a stem cell donor.
The campaign created by DRUM, Omnicom Media Group UK's content and creative agency is the first campaign under Anthony Nolan's new brand platform 'Without you, there is no cure', and the first piece of work created by DRUM since being appointed as lead creative agency last year.
The film, voiced-over by Anthony Nolan Patron and Oscar winning actor Olivia Colman, uses an analogy we can all relate to – trying to find our 'perfect match'. It 'was written by Elliott Starr, art-directed by Laura Clark, both from Drum, and directed by Jamie Rafn at Smuggler.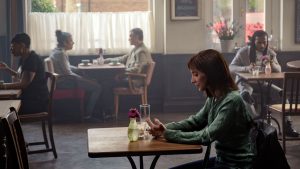 Beth Gardner, Assistant Director of Engagement at Anthony Nolan commented: "Increasing the understanding of Anthony Nolan's work, giving families a future, and the important role supporters can play is a challenge. We wanted a film which clearly and emotively demonstrated the charity's need for support – be that more donors on the register or vital income to fund the search, so we can connect people to cure blood cancer."
Laura Clark and Elliott Starr, the DRUM creative team behind the film added: "The task was to encourage more people to consider supporting Anthony Nolan financially. We knew that before people would care enough to support the charity, they first had to understand what Anthony Nolan does. Its work is a very intricate process. Finding a simple way to communicate that led us to the kind of 'match' everyone understands – romance. To find a stem cell match, Anthony Nolan has to search a global register of stem cell donors – it's like finding a needle in a haystack. Financial support for the charity literally funds this search and helps to save lives."
The 90 second film will run from 16th May until 27th June in cinemas across the UK as well as on Facebook, Twitter and YouTube. A 30 second version of the film will run across Facebook, Instagram, Twitter and YouTube, retargeting those who have already engaged with the campaign.
Source: DRUM