Automated Creative, which provides artificial intelligence-led advertising for brands including Diageo, GSK, Unilever, and BOSE, has appointed Amy Wright, previously at Saatchi & Saatchi, as client services director.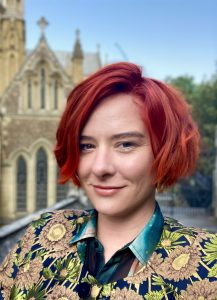 In the newly created role, Wright will be responsible for overseeing Automated Creative's global client base, working with them to make the most of AI driven social and display technology. She will also be tasked with putting a new team in place for the company to support clients in the UK, Singapore and New York. She will report to Automated Creative's founder, Tom Ollerton.
Wright was previously senior business strategist and communications lead at Saatchi & Saatchi in London, where she helped grow the agency and innovate its offering to clients. Her key successes include being a UK launch ambassador for Marcel.AI, as well as helping set up Publicis UK's inclusion and ally employee engagement groups Embrace and Headline. She also contributed to client business and communications strategies, working with brands like EE, VRBO, Marie Curie, and ASDA.
Automated Creative was established in 2017 and uses creative AI and consumer insight to optimise display and social ad performance and tell brands why their ads work. Founded by ex-We Are Social innovation director Ollerton, the company's technology is now used globally by brands including Diageo, GSK, Reckitt Benckiser, Unilever, Fever Tree and BOSE.
Commenting on her appointment, Wright said: "I'm a big tech nerd and I was hooked when the team at Automated Creative showed me the compelling insights uncovered using their AI. As marketers we know creativity only thrives by its effectiveness. To be effective means really understanding your audience, so it's exciting to see AI used to make sense of messy human behaviour and the platform's potential for challenging bias and the status quo. Automated Creative's progressive, supportive, and ambitious culture really sealed the deal. I can't wait to partner with such innovative clients."
Ollerton added: "Our mission is to re-invent advertising using AI and we've built a community of people who are passionate about this over the last few years. Amy is one of the people that has always brought some of the most interesting and disruptive opinions to the table, so when she became available we scrambled to get her on board. She only has a passion for automated advertising, but also a strong understanding of brand and strategy. She's not afraid to ditch the script and find her own way of getting a result and it's that kind of divergent attitude that formed Automated Creative in the first place. We're chuffed to have Amy's talent unleashed on our clients and are excited to see what we can achieve together."
Source: Automated Creative