Barclaycard Payment Solutions' integrated advertising campaign, 'We Take Business Seriously', continues to champion the UK's most interesting businesses with its next instalment featuring the Upside Down House. 
The Bournemouth tourist attraction is the latest subject of Barclaycard's campaign, part of a series showcasing some of the UK's most unusual businesses. The creative assets feature real people – existing and successful Barclaycard Payment Solutions customers – telling their own unique stories of business growth.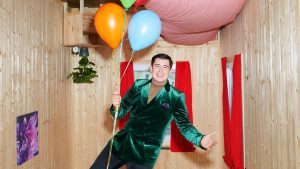 Following in the footsteps of crystal business, The Crystal Barn, which featured in the campaign's launch creative, the new hero film presents Tom Dirse, the Upside Down House's 24-year-old CEO.
He makes the case for everyday activities – such as birthday parties and watching TV – being completed while upside down. In a final twist at the end of the film, its reveals that Tom himself has been upside down throughout his narration.  
The Upside Down House is an Instagram-friendly tourist attraction in Bournemouth – an inverted house in which everything is literally 'upside down'. Less than one year into trading, Tom already has plans to open a second house and has a vision to open dozens of similar attractions all over the UK.
By taking payments as seriously as the Upside Down House takes immersive tourist attractions, and giving visitors the flexibility to pay their entry fee the way that they want, Barclaycard is helping this customer to grow.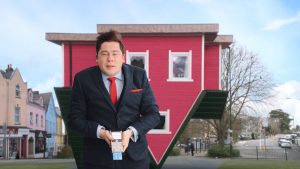 Creative assets bringing the Upside Down House's story to life will run across out-of-home, print, digital, social, and owned channels throughout spring 2019. Alongside the new 'hero' video, Barclaycard is working with the Upside Down House's Tom Dirse to develop content for digital and social channels.
This will include behind-the-scenes stories that delve deeper into the triumphs and pitfalls the Upside Down House has experienced, and coaching content in which Tom gives his own tips and advice for other businesses. 
"We hope others will be inspired by the stories featured in our advertising campaign, 'We Take Business Seriously'. The Upside Down House is a great example of an unusual business that is going from strength to strength with Barclaycard Payment Solutions' help," said Alisa Copeman, Managing Director of B2B Marketing at Barclaycard.
"Tom Dirse's business plan – to construct a house built completely on its head as a residential tourist attraction – is not your everyday small business, but it's one that Barclaycard takes as seriously as any other. We support businesses of all shapes and sizes, and we're delighted to showcase the Upside Down House in our integrated advertising campaign."
Source: Barclaycard