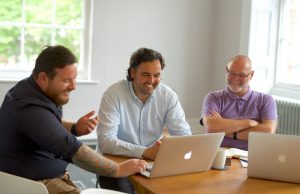 Brand agency Better has appointed two new members to its senior management team following unprecedented growth over the last two years.
Simon Preece joins as associate brand director and will support the agency's strategic growth, service offer and, as the most awarded marketer in DBA history, further develop its commercial effectiveness agenda. Simon brings a wealth of experience to Better having spent 26 years at Elmwood as a shareholder and main board member managing the development of many of their largest client relationships across FMCG, corporate and retail sectors and the BBC.
Simon said: "I am delighted to be joining the team at such a pivotal stage in the agency's development. Better has a unique value proposition, with an impressive track record in delivering best in class business strategies for its clients. I am excited to be part of the team and look forward to working with its experienced and ambitious board to help deliver further growth."
Additionally, John Taylor, who joined Better as creative director in 2016, will be appointed as board director. The appointment will further strengthen the leadership team and expand John's management role within the agency whilst continuing to lead the delivery of the brand projects for clients across the UK.
From its headquarters in the North East, Better has seen its national growth develop faster than predicted after opening its office in London and securing over a quarter of a million pounds worth of new business in just a few months from outside the region.
Better's phenomenal growth is due to the agency's specialism for brand development and BetterBrandBuilder, Better's unique brand building tool designed for growing businesses. The process has been developed to help companies define their unique proposition and distinct point of difference on which to build a relevant, authentic and powerful brand to drive business growth and deliver measurable commercial return. Recent client wins include Metropolitan Housing, Clapham Park, University Hospitals Association, ReatimeUK, Trinity House and Ensign.
Mark Easby managing director at Better, said: "We're now recognised as a national agency and we're securing significant contracts which is a real reflection of the service we offer and the value we deliver for our clients. We're incredibly excited about Simon and John's appointments to our management team, not only for their experience and expertise, but also it reflects our ambition and our ongoing investment in Better's growth strategy."
Source: Better