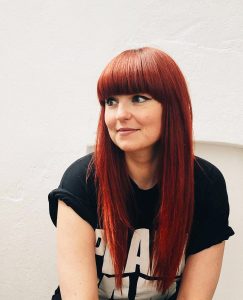 Independent brand consultancy big fish has appointed Chloé Templeman to the newly created role of Executive Creative Director. Templeman joins big fish following over 11 years at Design Bridge, most recently in the role of creative director. With over 14 years experience in the industry, Templeman has won and judged many international awards including D&AD, Pentawards, New York Festivals, Design Week, The FAB Awards and DBA Design Effectiveness. 
Templeman will start in early June, overseeing a growing creative team of over fifteen people. This is the latest creative appointment following creative director & filmmaker Garrick Hamm joining as a creative consultant in January 2022 to develop big fish's talent, reputation and film offer.
big fish founder Perry Haydn Taylor, who has until now overseen the creative team, will focus on building the business. Founded in 1994, big fish has transformed and launched some of the UK's most loved food, drink and lifestyle brands, including Gü, Sipsmith, Tyrrells, Yeo Valley, Sofa.com and Freddie's Flowers.
Perry Haydn Taylor says, "We are taking on the challenge of helping businesses to be better for people and planet. We also want to practice what we preach by continually evolving our offer and maintaining a startup mentality. That means finding people who will challenge us to think differently and bring out the best in the people we already have. Chloé has a rare combination of creative flair, a collaborative approach and the vision and courage to reimagine brands. We are looking forward to getting started with her."
Chloé Templeman says, "I always try to take brave steps in my work and push myself to be the best I can be. Taking on the creative leadership of big fish is the next challenge and I am so ready for it. big fish's ambition fits perfectly with what I see as the future of design studios – building brands that are a force for good in the world. I'm looking forward to working with Perry and the creative team to take an already amazing business and bring my own flair and energy to it."
Garrick Hamm says, "Chloé is that rare thing – an ideas-driven designer who executes brilliantly. Equally important, she can galvanise and lead a studio without taking herself too seriously. I've had the pleasure (and envy) of watching Perry grow big fish from his kitchen table into the distinctive force it is today, designing some of the most famous and beautiful brands to grace our shelves. Chloé is set to lead a talented team to come up with the creative, sustainable work that brands and our planet need to survive."
Source: big fish