India is a cricket crazy country and things are about to get intense. For a fan, it's when logic and reason take a backseat to unbridled cricket love and make way for lucky rituals and personal superstitions. 'Trend Your Luck' celebrates that quirky side of Indian cricket fandom in a humorously endearing way.
The film captures the craziest rituals and urges the viewer to #TrendYourLuck by sharing videos of their own lucky rituals. The truly lucky fans get to score exciting prizes curated for the occasion.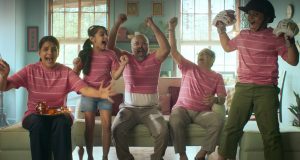 The campaign has been conceptualised by Brave New World, an integrated advertising agency based in Bangalore, India. With capabilities across mainline, digital & social media, and experiential & on-ground activations, the agency has helped turn Trends' social media channels into some of the most highly engaged with channels in the country. 
Sraman Majumdar, Senior Creative Director of Brave New World said, "There's a lot of intensity around the cricket season and brands tend to amplify that. We wanted to add some irreverence and laughter to the intensity, make the fans smile at themselves and love the brand for it. Every die-hard sports fan will either identify with this film or associate it with someone they know."
The campaign will run through the month on Hotstar, YouTube and Trends' social channels.
Source: Brave New World