Leading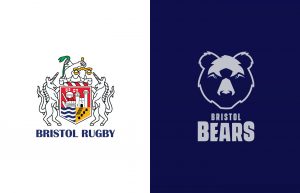 brand, marketing and digital agency, Mr B & Friends, has helped Bristol Rugby to relaunch as Bristol Bears as the team targets further success.
The club came to the agency, who redesigned the Bristol Sport logo in 2014, with a plan to rebrand under the new name of Bristol Bears last year. The new brand seeks to appeal to a wider audience base and attract a whole new generation of fans, in Bristol and beyond.
While focused on achieving success at both a national and European level, Bristol Rugby's commitment to inspiring the community through rugby success remains paramount. With a 27,000-seater stadium and the development of a new world-class training ground in close proximity, the club is dedicated to developing homegrown talent and attracting top-class players.
Inspired
by the club's determination to take the community on its journey to success, the figure of the bear is one that's protective of its family and its territory. The bear also represents strength, fearlessness and discipline, just as the players do on and off the field. With head coach Pat Lam at the helm and a host of impressive new signings, the club is embarking on a new era, almost as a bear rising up out of hibernation.
This drive is displayed in a marque that uses a bear's face with a stare full of attitude. The new brand also had to provide a consistent identity to be used across commercial and marketing assets so, alongside the marque, the agency visualised a range of brand in-action assets, as well as advising on designs for home and away kit.
It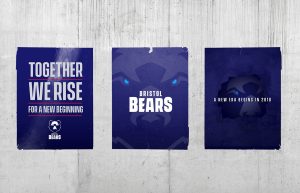 was important that the brand inspired existing supporters while attracting a new generation of Bristol fans. The campaign mantra of #TogetherWeRise calls for strength in numbers and for supporters to pull together to back the team as it rises to power.
Steve Richardson, Executive Creative Director at Mr B & Friends, says, "To create an identity that conveyed Bristol Bears' fierce ambition, we knew that it needed to have real attitude and be symbolic for the next generation of fans. With a strategy that positioned the team as emerging to challenge the modern game, the creative team designed the bear emerging into the light – rising for a new beginning with intent."
Stephen Lansdown, owner of Bristol Rugby, says "The team at Mr B & Friends has worked alongside us to develop the Bristol Bears concept. I believe it epitomises the strength, power and ambition for the club as we set our sights on achieving sustainable success. We believe the Bristol Bears brand will open up new markets – both domestically and abroad – as we embark on an exciting new chapter."
Source: Mr B & Friends