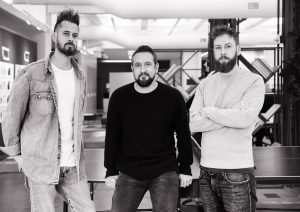 Independent, global brand design agency, Bulletproof is thrilled to announce that its New York studio has three new powerful additions to its creative force; Tony Connor, Dan Gladden and James Thompson. 
Executive Creative Director, Tony Connor, has moved across the pond to lead the New York creative team after playing a key role in shaping the Bulletproof London offer for the past thirteen years. He has subsequently hired two highly talented creatives to fortify the team; Dan Gladden as Creative Director and James Thompson as Design Director.
Tony brings with him a wealth of experience in large scale brand visual identities through to cross platform campaigns and packaging, having worked with clients including; Arla Foods, Diageo, Mark Anthony, Mondelēz International and SC Johnson. His ethos is simply to put brands first with brand ideas-led creative that delivers commercial results.
Dan joins the Bulletproof fold having previously worked at Pearlfisher and JKR. With a strong branding background, Dan has led a range of projects from new brand creation to iconic brand development for major global companies such as; Anheuser-Busch InBev, General Mills, Metallica, Pfizer and Restaurant Brands International.
During a time of growth at Bulletproof, Dan is excited to play a part in molding and crafting the vision of the agency, as well as push conceptual thinking and problem solving across different brand scales.
James has joined the fold as Design Director, having been in the industry for over seventeen years. James has worked with clients such as Anheuser-Busch InBev, Diageo, MondelēzInternational, PepsiCo and Unilever. Working on both large and small intricate rebrand projects, NPD and structural design and packaging concepts, James is excited to inject his passion for craft and detail into the creative force at Bulletproof.
Nick Rees, Partner and Global Creative Director at Bulletproof, said: "Tony has been hugely influential in the growth of Bulletproof to date. His approach to the challenges that face our clients is cutting edge and I have no doubt he'll continue to push our New York creative team onto new heights. Dan is someone that we've admired for many years and we feel it's a bit of a coup to finally have him in the tribe. He's got boundless energy and adds an exciting dimension to our brand thinking that will stretch our approach to new extremes.  We are continuing to build a culture of creative excellence throughout the business and with James also influencing with his concepting and craft, we feel prepared for any challenge that comes our way."
Source: Bulletproof