Canal & River Trust, the charity that looks after 2,000 miles of waterways, has launched a new campaign, created by The Gate London, to encourage people to recharge by their local canal or river.
Research shows the more time people spend on and along the Trust's canals and rivers, the happier and healthier they can feel.
With concerns around mental and physical health across the UK, there's never been a better time to take a break from the noisy, busy streets in towns and cities and get out onto the towpath,
MSQ Partners' The Gate London were tasked with creating the campaign and building awareness of the Trust amongst the eight & million people living close to a Canal & River Trust's waterway in England and Wales.
The campaign highlights the important role the Trust's canals and rivers play in providing free-to-visit space that are, in most cases, just a short walk from people's homes and offices.
At the heart of the campaign is a character called Well-B, who actsas a visual proxy for wellbeing – a simple and endearing way of showing how we all feel inside when we need to recharge.
In a 30 second TV spot, which first airs on Monday 15th July, we follow Well-B on a journey from the grey hustle and bustle of modern life, to the calm and tranquil oasis of a local canal. Throughout the journey, Well-B's monitor provides a visual way of expressing wellbeing levels, whilst putting Canal & River Trust at the heart of the character and campaign.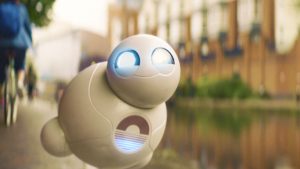 Created by Beri Cheetham, Hugo Bone, John Osborne and Rickie Marsden at MSQ's The Gate London, and directed by Ben Craig at Fond Films, the campaign will run across TV, online video, social media and digital channels. The Gate London is handling the creative strategy for the campaign, with media planning & buying led by The Gate's Kelly Church.
Nicky Wakeford, Head of Marketing & Supporter Development at Canal & River Trust said: "We worked very closely with the team at MSQ and challenged them to portray the huge role the Trust and canals and rivers can play in helping millions of people to feel better just by increasing the time they spend by water. Whether people are walking, running, biking, boating, fishing, resting, spotting wildlife or seeking a bit of headspace – there are so many fantastic ways to recharge by your local canal or river. We are thrilled with the campaign. It's really exciting to convey how great life can feel by water in such an emotional and engaging way."
Jamie Elliott, CEO, MSQ's The Gate London, added: "We wanted to avoid the shock tactic clichés of charity campaigns to raise awareness of the unique work the Trust does and the unique feelings that the spaces they protect engender. Giving birth to a new character is always satisfying and we hope that Well-B attracts many future generations down to their local canal."
Source: MSQ Partners