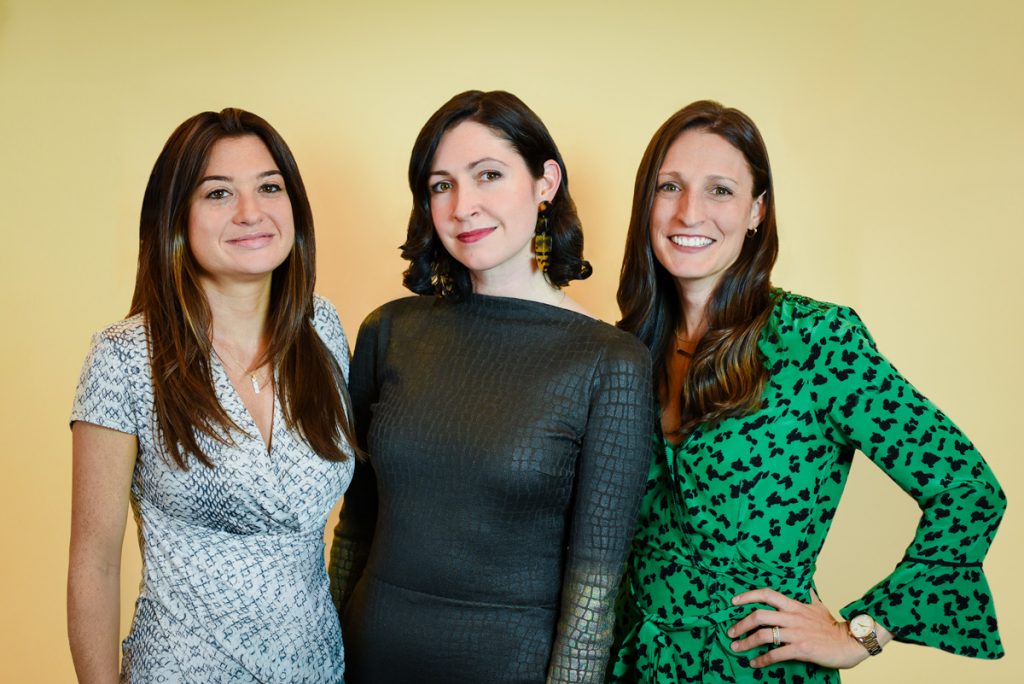 co:collective, the creative and strategic transformation consultancy, has promoted Kelli Lane MacDonald to the role of Managing Director as part of moves to strengthen its leadership team. At the same time, Amanda Ginzburg takes up the role of Head of Marketing and Kit Krugman is promoted to Head of Organization & Culture Design, a new practice from co:collective dedicated to helping businesses turn purpose into practice. 
co:collective was founded nine years ago by Rosemarie Ryan and Ty Montague and has always had a strong track record of equal representation in management roles. With these promotions the ratio of female leaders to male is now 6:4, in stark contrast to the industry as a whole, where 75% of the top innovation firms are currently led by men (source: Women in Innovation).
Kelli steps into the newly created position of MD from her previous role as Head of Client Engagement and will be responsible for managing and growing the business, facilitating collaboration and cohesion across offerings, and deepening relationships with new and existing clients.
In her new role, Amanda oversees all marketing and PR, content and thought leadership, events, partnerships and demand generation efforts on behalf of co:. She was previously Group Account Director & Director of Product Marketing. Kelli and Amanda both report to CEO Rosemarie Ryan.
Kit was previously Chief Curator at co: and will now head the company's new Organization & Culture practice, taking leadership across all clients working on organization and culture projects. She reports to Chief Strategy Officer Neil Parker.
Rosemarie Ryan, CEO of co:collective, said: "We have always been a women-founded, women-led organization, yet over the past few years we have doubled down on our efforts to support female leaders.
"We are thrilled to promote Kelli to the MD role as we continue to expand what we offer. She has been fundamental in shaping the client engagement function, as well as co:'s culture at large. She will be pivotal to our growth as we step into our tenth year as an organization.
"In her tenure at co: Amanda has gone from a trusted account lead to a critical leader in the business of driving long term growth at co: and her promotion was a natural transition. And we are thrilled to have Kit leading the Organization & Culture Practice. She has been a tireless champion for creating more equitable and inclusive cultures both inside and outside of co:."
Kelli Lane MacDonald said: "The depth and range of our talent is unparalleled and we have a tremendous opportunity to work with many of today's market-shaping clients on transformative brand and business challenges. I'm so excited to continue to partner closely with our talent and our clients in this new role to create work that drives both stakeholder and shareholder value."
Amanda Ginzburg said: "We are now in the 'post purpose' era, where brands are increasingly aware that they need to turn purpose into action. co: was founded on this principle, and it remains a core value to this day. It's why this organization has always been ahead of the curve, and is perfectly positioned to help clients navigate a rapidly changing landscape. I'm thrilled to be a part of this team and lead our marketing in this exciting time."
Kit Krugman said: "Driving innovation externally requires a culture of innovation, internally. It's exceptionally rare to find an organization like co: which challenges its employees to transform as sincerely as it challenges its clients. What makes co: special is a magical combination of convention-challenging creativity and strategic rigor that serves as the perfect alchemy for driving real impact."
co: is a founder member of Pledge Parental Leave, an initiative to improve paid leave benefits for new parents in the American creative industry and also dedicates significant time and resources to WIN: Women in Innovation, a non-profit dedicated to closing the gender gap in innovation.
Source: co:collective