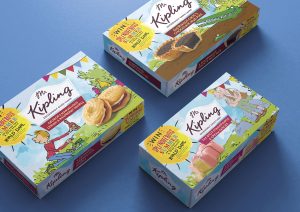 Premier Foods are sparking the summer season in collaboration with Roald Dahl with the launch of a brand new limited edition range and splendiferous summer on-pack promotion, designed by award-winning branding agency Coley Porter Bell.
Rolling out from 29th May and available across grocery, impulse and wholesale channels, Mr Kipling George's Marvellous Lemon & Raspberry Whirls, Enormous Croc's Chocolate Mud Pies, The BFG's Strawbunkle & Cream Fancies and Mr Fox's Fantastic Forest Fruit Slices are helping retailers capture shoppers' attention in the cake aisle and throughout stores.
Tasked with creating disruption on-shelf and creating a splendiferous summer for all the family to enjoy, Coley Porter Bell fully-immersed themselves into the world of Roald Dahl by re-reading the stories from their childhoods, and bringing the same excitement, inspiration, and adventure to the entire Mr Kipling range.
Recreating the idea of a splendiferous summer, Coley Porter Bell developed limited edition packs, each encapsulating the magic of Roald Dahl stories; bringing the well-loved characters to families this summer.
As an added bonus there is an on-pack promotion which gives shoppers who purchase the cakes the chance to win thousands of prizes including Roald Dahl inspired holidays and adventure days out. Shoppers will be directed to a microsite where they can enter a code to see if they have won.
Lucy Bailey, Marketing Controller of Mr Kipling at Premier Foods, comments: "Following the +5% category growth over the summer period last year when the packs rolled out exclusively with Tesco and brought new customers to the cake aisle, we're confident that this year will be the same roaring success. Families and people of all ages can enjoy Roald Dahl's famous stories; through the new range and splendiferous summer promotion we hope to bring people together to enjoy the iconic characters and delicious cakes. We want to emphasise that the little things done together this summer can mean a lot and the collaboration with Roald Dahl is the perfect way to do just this."
James Ramsden, Executive Creative Director, Coley Porter Bell added; "Roald Dahl is such a special author who captures the magic of childhood and adventure. It's such a treat to work with the language, characters and stories of Dahl and bring them to life in a new and fresh way for Mr Kipling. Customers will no doubt be drawn to the colourful, fun and charming packaging and campaign."
Jennie Cooper, Senior Designer, Coley Porter Bell summarised; "With such a great partnership story and a rich bank of assets and visuals to play with it was a no-brainer to dive into the stories themselves to draw out their personalities and what's going to make this range so memorable. The project certainly created a buzz across the agency that I'm sure will be reflected amongst consumers."
The core Mr Kipling range, also designed by Coley Porter Bell, will also undergo a packaging refresh with a flash on-pack to highlight the splendiferous summer promotion and the activity will be supported with in-store and digital activation. The limited edition range will be rolling out from the 29th May and available across grocery, impulse and wholesale channels with an RSP of £1.00.
Source: Coley Porter Bell