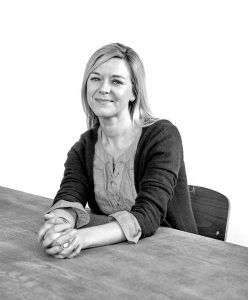 Boston-based creative agency Colossus has made an integral addition to its Executive Leadership team, hiring Allison Waters Doherty as general manager of Design. As a result, A&Co—the art and design studio where Doherty serves as founder—is merging with Colossus. Having worked with coveted clients such as Puma, Saucony, Tiffany&Co., Wrangler, New Balance, Tea Forte and more, Allison brings a wealth of experience and capability to Colossus in every aspect of the art and design world.
A&Co clients will now have deeper access to Colossus' full range of agency capabilities, from advertising and production to world-class creative direction, strategy, copywriting and design. In turn, the merger allows Colossus to expand its design offering, client roster and segment experience in lifestyle brands, consumer product groups, commercial real estate, hospitality, higher education, cultural institutions, luxury brands, nonprofits, and start-ups.
"I've admired the work that Colossus has been doing for a while now," said Doherty. "It's clear that they are a design-led agency with a genuine creative vision, and that's rare, especially here in Boston. I'm excited by the idea of being part of an agency where design is a strategic approach, as opposed to a step in the process."
Doherty's superpower is merging business and creativity at an incredibly high level. Allison brings 24+ years of creative management and agency operations expertise to Colossus. Before founding A&Co, she was Arnold Worldwide's EVP, director of Global Operations. While there, she played many roles including establishing and managing Arnold's Design Group, where she led a group of 22 award-winning designers. Prior to Arnold, she was manager of Creative Services at both MullenLowe and Tiffany&Co.
"At Colossus, our focus has always been to elevate the design language of every brand we partner with, and I think that makes us unique. We place tremendous value on art and visual communication," said Colossus ECD Travis Robertson. "We view ourselves as one part advertising agency and one part design studio, with no separation in between those functions. It allows us to look at the bigger brand picture. Bolting on the experience and capability of Allison and A&Co further reinforces that belief."
Doherty will continue to manage the transition and integration of the design practice into Colossus—owning everything from business development to recruiting to client relationships.
This past year has been an exciting one for Colossus. The agency launched innovative wine brand Archer Roose alongside actress Elizabeth Banks, created a new brand identity for global healthtech juggernaut athenahealth, doubled its physical office footprint and has been on a new business tear, winning work for SimpliSafe, epocrates, Toast, Zipcar, Very Good Foods, Earnest, Bowery Farming and Gillette, among others. In an advertising market where local agencies have notably been unable to win and retain clients or create a diverse workforce,Colossus has achieved both with stunning speed.
Source: Colossus