Currys PC World launches its latest multi-million-pound advertising campaign in support of its new 'Get Your TV For Free' giveaway, and its best ever range of TVs. Designed to capture the excitement ahead of a football-filled summer, the campaign kicks off on May 9 with a series of TV ads before appearing in press, social media and out-of-home (OOH).
Currys TV ad by AMV BBDO makes its debut on the TV pitch during Who Wants To Be A Millionaire. The ad, shot in the style of a post-match interview, depicts a Currys PC World employee being interviewed about his team's hard work in training clearly paying off on the shop floor after a big day assisting Currys PC World shoppers with their TV purchases. The ad also covers Currys PC World's new 'Get Your TV For Free' promotion, running between 9th May and 26th June, where one in 20 shoppers buying a 55 inch or above TV will get it for free.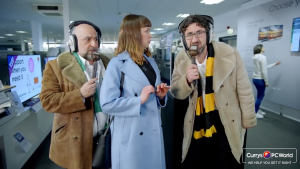 The TV ad is also joined on the field by a social campaign fronted by comedy superstars Mark Watson and Omid Djalili. The duo star in a range of five social videos as comedy commentators, putting their twist on traditional football commentating on customers getting their perfect television in store. The videos also feature unexpected moments like an energetic couple zorb‐footballing around the store, a duo of warring mascots, a noise‐loving superfan and a pair of cheeky streakers.
The campaign will also feature two disruptive OOH installations, still under wraps, and a range of press insertions.
Simon Peck, Head of Commercial Marketing for Dixons Carphone, comments: "We want to help our customers get it right when it comes to their TV purchase, and our new 'Get Your TV For Free' campaign gives customers better value than ever. Rather than traditional 'Cash for Goals' offers, which only come good when your team does, our promotion gives you the chance to get a fantastic result no matter what the score on the pitch. And, thanks to key players including Omid and Mark, we think our new campaign will really set us apart this summer."
Source: AMV BBDO