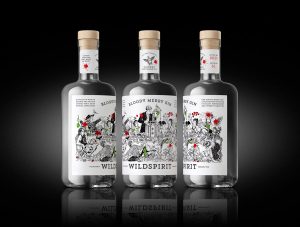 New distillery, Wildspirit, launches Wildspirit Bloody Merry Gin, with a convention-breaking brand and packaging identity by drinks design specialist Denomination.
Passionate distiller and founder of Wildspirit, James Dumay, set out to fill a gap in the market for a serious gin for serious gin drinkers, but with a very unserious attitude: "We wanted to bring an irreverent energy to the spirits world and give the category a bit of a shake-up. Wildspirit Bloody Merry represents a completely new approach to flavour, using infusions of fresh tomato and celery alongside botanicals to create a delicious, bright spirit unlike any other on the market."
Dumay approached Denomination because he wanted brand and packaging identity to reflect his and his friends' love for quality, while capturing the fun and enjoyment of sharing gin cocktails together. In response to the brief, Denomination has created an eye-catching and completely unique identity that marries premium credibility with bacchanalian humour.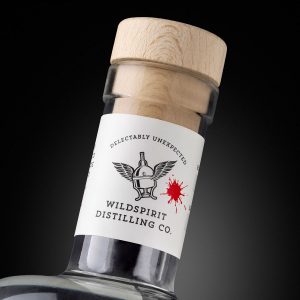 Balancing the sense of fun and adventure with the fact that Wildspirit Bloody Merry is a high-quality gin was a key part of Denomination's strategy.
Rowena Curlewis, CEO, Denomination, says: "It was important to capture the essence and wit of Wildspirit whilst ensuring there was enough craftsmanship to establish the brand as a premium producer. Wildspirit Bloody Merry is pushing boundaries, so the design response needed to as well. When the client initially approached us, he told us how he would make samples of different infusions and test them out on friends at dinner parties; this inspired the foundation story for the brand."
The brand's illustration features the distiller with his friends at an uproarious sampling party. The craft and the detail in the illustration also gives consumers a wealth of opportunity to discover more about the brand story and the ingredients used, while conveying the care and attention to detail that has gone into its production.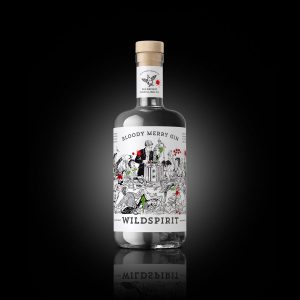 Curlewis says: "Using illustration in this way hasn't been done in the spirits category before. Doing so gave us an opportunity to tell more of an intriguing brand story, as well as communicating important details about the gin itself."
Just as the personality of the Wildspirit brand is irreverent, so is the new recipe, taking some of the key ingredients of a Bloody Mary – celery and tomato, but turning the classic cocktail on its head by infusing them with gin. As such, Denomination created the name 'Bloody Merry' as a play on the renowned cocktail but also to represent the story of the brand.
Dumay says: "Wildspirit is a new brand and Denomination guided us through every step of the process, from naming development, bottle and closure selection and supplier introductions, right through to branding and delivery. The agency's vast experience in spirits, and with boutique brands, meant that the team were able to deliver a highly personalised service – hugely appreciated as a start-up distiller. It felt like a real partnership. The reaction so far to our first SKU Wildspirit Bloody Merry has been amazing. We're looking forward to expanding the brand and creating more spirits that reflect the same merriment and surprise that Wildspirit Bloody Merry brings."
Source: Denomination