The Department for Transport and 23red have launched the latest execution of the THINK! campaign, made in conjunction with production company Fully Focused, that aims to encourage young people to confront their friends about drink driving. 
THINK! is the UK government's designated road safety campaign, established in 2000. This specific execution delivers on THINK!'s proposition 'A mate doesn't let a mate drink drive'.
The objective of the campaign is to increase the unacceptability of drink driving amongst peer groups, specifically those aged 17-24, empowering young men in particular to confront their friends about drink driving. The creative is designed to celebrate speaking out, working against anxieties people might have around being a buzzkill.
The first film has gone live today (14th December), with the following two films to be released from the 17th December.
It will be shared across THINK! social channels and by THINK! Partners, played in 300 pubs across England and Wales, as well as football stadiums (Cardiff, Southampton, Wolves, Ipswich, Notts County, Portsmouth, Rotherham, Stockport, West Brom, Wigan) and across Top Golf TV – a channel played in sporting entertainment venues.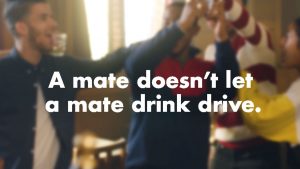 The first film opens with five friends drinking in a pub as sleigh bells sound in the background. One of the young men finishes his drink, grabs his car keys – on his football keyring – and heads off. His mates immediately freeze, and nod at one another. It's clear they want to intervene. They surround him tackling the small football out of his hands, passing it between them to keep it out of his reach, finally landing it in a pint glass held by the landlady who suggests a taxi instead. 'A mate doesn't let a mate drink drive' appears on screen as the friends cheer.
The film is being released in the run up to Christmas, recognition of the fact that during the festive party season there is even more pressure for everyone to have fun – impromptu visits to the pub, work Christmas parties, house parties – ensuring those who might not usually drink drive may be tempted to have 'just the one'.
Emma Taylor, Business Director at 23red said: "Often people think it's solely the driver's responsibility to decide whether they drink drive or not and, whilst they might not be happy that their mate drink drives, they don't want to be the one who tells them for risk of being seen as boring or sensible. The aim of this campaign is to try and work against those feelings before they crop up this festive period, instead empowering friends of drivers to speak up and feel proud of doing so – as they can ultimately prevent serious accidents, and even save lives."
Road Safety Minister Jesse Norman said: "Drink driving needlessly puts human lives at risk. Our hard-hitting THINK! campaigns have already shown a positive impact on road users, encouraging safer behaviour so as to reduce the number of people killed and injured. This Christmas, the simple message is that friends need to step in and stop their friends from getting behind the wheel after drinking."
Source: 23red