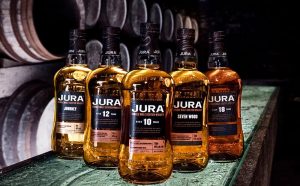 Jura Single Malt Scotch Whisky have appointed DRUM as its strategic global content agency in a competitive three-way pitch.
The Omnicom Media Group UK's creative and content agency will work with the Scottish Single Malt Whisky whose distillery is based on the Isle of Jura in the Inner Hebrides off the West Coast of Scotland. 
DRUM are tasked to drive consumer penetration and recruit new drinkers through story-able global content DRUM will be bringing the creative platform A Long Way From Ordinary to life on the Jura social channels.
Last year was a transformational year for Jura with the launch of a new house style and twelve new whiskies, the largest launch in its history. In May 2019 Jura launched a new consumer campaign 'Say Hello To Jura', with creative development led by Punk, which is being produced across the UK.
Claire Clark, Global Communications Lead at Whyte & Mackay Ltd said: "We went to pitch looking for an agency that could challenge our thinking and help us build a bold vision for the role of social in delivering our strategic goals. We were very impressed with DRUM's thinking. Their insight led approach was sound, their creativity – intuitive and distinct, and their attitude purposeful. We are pleased to be partnering with them as we continue to drive the vision for the brand forward and share more Jura, with more fans across the world."
Luke Southern, managing director of DRUM, added: "We are delighted to have been appointed by Jura whisky to be their global content agency of record.  It's an exciting year for Jura with great momentum behind the brand and an ambitious International growth plan and we are thrilled to be part of the team to help drive penetration and recruit new drinkers to the brand.  We are looking forward to partnering with them to create disruptive and innovative social content."
Source: DRUM