Elmwood, the award-winning brand design consultancy which has won more Design Effectiveness Awards than any other agency in the history of the scheme announces the succession of its business across its five studios in Leeds, London, New York, Melbourne and Singapore.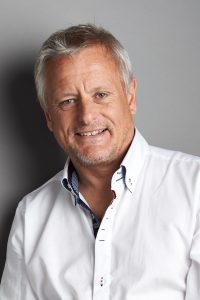 Founder and lead shareholder Jonathan Sands has been at the helm for almost forty years and believes now is the time to hand on the baton coming off the back of one of their most successful years and having worked to put strong leadership in place across all studios over the last three years. These plans have included relocating the head office to the London studio and demerging Leeds and Melbourne studios from the global business which includes its London, New York and Singapore studios enabling the next generation of Elmwood leaders to run the show. Alongside this reorganisation Sands is diluting his own personal shareholding to give equity stakes to the respective leadership teams across all studios.
Jonathan says "Elmwood has been my life's work having been at the helm for almost forty years. Back in 1989 I was handed a baton when we orchestrated a management buy-out but it's never only ever just been my business. Now with a big birthday approaching and the business enjoying a rich vein of talent at all levels it feels like my job here is largely done and so it is the time to plan for handing that baton on successfully across all five studios."
While there are no immediate plans for Sands to disappear entirely, the Global,  Melbourne and Leeds studios have in reality been running independently within the Elmwood Group for some time and they have all enjoyed significant and sustained growth over the last few years under their respective stewardships. "While I am very proud of those studios and the great way that they have developed and grown, the old adage that 'home is where the heart is' has become ever more the real truth for me" Sands added. "Since opening in Melbourne in 2004 I have more than 60 stamps to Australia in my passport and the same for the US. I have loved my time travelling and building those studios but now is the time to return to my roots."
Leeds the studio where it all began is once again a stand-alone studio as it was when Sands started out and this studio is now set to be born again.
He goes on to say; "Now more than ever there is a need to be more agile, from Brexit one day to a global pandemic the next and with new digital disrupters entering with new channels and technologies the rules of engagement constantly change. We need to be immersed and up close and personal with our client businesses like never before almost as if part of that business. With our global business acting as a brand guardian for a number of global corporations they need to personally man mark their clients in their key hubs around the world. Our Leeds and Melbourne studios even though they operate internationally don't need to have that studio presence on the ground and its this recognition of different clients' needs plus the acceleration of changes in ways of working following COVID 19 which has led to the demerger of these two studios."
Elmwood Global is currently led by Steve Gatfield as Chairman. As part of Sands's succession planning, Steve, who had previously been an Elmwood Non Exec, succeeded Jonathan as Chairman just over three years. It was his background as a global leader with some of the world's most successful marcoms businesses such as Leo Burnett, IPG and Lowe that were seen as the perfect credentials for this current chapter in Elmwood's life. Splitting his time between homes in both the UK and US, he has been the perfect mentor to Sue Knowles as Managing Director in London and Nulty White who is Managing Director of NYC. Over this period under his Chairmanship he has successfully steered the business from being an international one into a truly global one
The Melbourne studio is led by Rick McEvoy and Kate Richardson who have both been with the business for many years and likewise have overseen a stellar performance. Leeds where Sands will renew his title of Chairman will continue to be managed by Sarah Dear as managing partner alongside Wander Bruijel and Sabrina Ahmed. This business has equally enjoyed one of its busiest periods evolving its model with the development of its 'Furnace' proposition. The team is especially energised by some very exciting plans for a rebrand following the demerger to echo its new offerings (the Elmwood brand will be retained by the other businesses). This is a big moment for Leeds given it is the founding studio that started it all. The rebrand plans will be announced in the very near future.
Source: Elmwood