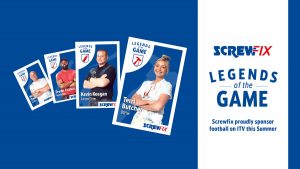 Figures just released by Foresee Insight, a company that measures digital reach, shows that of the Top 10 World Cup commercials on social media: Screwfix topped their league
Not only were Screwfix proud sponsors of ITV World Cup match coverage, but Screwfix's ad on ITV received the highest positive sentiment of 79%.
The Omnichannel retailers' "Legends of the Game" hailed unsung heroes in the construction business, featuring genuine trades people with sound alike names, such as Kevin Keegan, Stuart Pearce, Ashleigh Cole and Peter Crouch. The tongue in cheek campaign achieved over 20 million reach and over eight thousand engagements.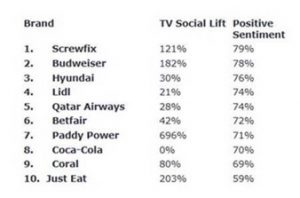 The campaign was skilfully managed by the Screwfix in-house team, supported by their forward-thinking agency, demonstrating their ability to play at the highest level as home grown talent at its best.
Tackling some strong competition, together they achieved fantastic results from organic rather than any 'paid-for' posts.
Clever tactics and solid teamwork meant that no sky-high transfer fees were involved, as the campaign certainly proved it had what it takes to go all the way on its own merit.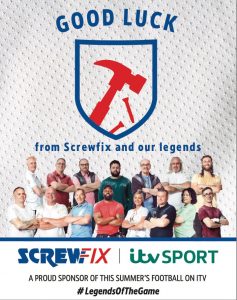 Furthermore, these "Legends of the Game" were totally 'on-side', helping to gain great coverage in the sports sections of national press and being featured on Digital Screens in pubs across the nation.
There was also a clear 'advantage' having players interviewed on radio as well.  This great bunch of players certainly helped Screwfix to achieve their goal.
Brand and Marketing Director, Caroline Welsh pointed out that: "We couldn't have done this without our loyal fans, customers and legends. This was a big investment and luckily the England team ably assisted, by going even further in the tournament than we dreamed.  Our internal volunteers who monitored and responded to every social interaction are the true hero's, but watching football is their passion, so it was a win-win situation."
Source: Screwfix