On the occasion of the 12th International Anti-Street Harassment Week (3-9 April 2022), McCann Paris has developed a new campaign on behalf of the Stand Up training program, developed by L'Oréal Paris in partnership with global nonprofit Right To Be (formerly Hollaback!).
In this international campaign, available from April 3 on the L'Oréal Paris Instagram account, L'Oréal Paris ambassador Eva Longoria becomes a trainer and shares each of the 5Ds of this training method: Distract, Delegate, Document, Delay, Direct. A set of 5 simple and effective actions to respond to street harassment in total safety.
"It's on this basis of these 5Ds of Stand Up that we have created this new campaign, which we wanted to be both simple and impactful through educational content. In the way of a "masterclass", Eva Longoria, the spokesperson and woman of commitment, put her talent at the service of this campaign in order to give everyone the opportunity to react to a situation of street harassment." explains Julien Calot, Creative Director at McCann Paris.
Created in 2020 by L'Oréal Paris, in partnership with Right To Be (formerly Hollaback!), the aim of the Stand Up program is to tackle street harassment, which 80% of women have already been victims*. To date, 700,000 people have been trained in the 5Ds method, which gives the keys to put an end to sexual harassment in public spaces in complete safety, whether you are a witness or a victim.
Available for free in short format on standup-international.com, and deployed in schools, companies and institutions, the Stand Up program will once again reach out to the general public.
This digital campaign will be broadcast worldwide from April 3 on the Instagram page of L'Oréal Paris and shared via the hashtags #LOrealParis #WeStandUp #WorthIt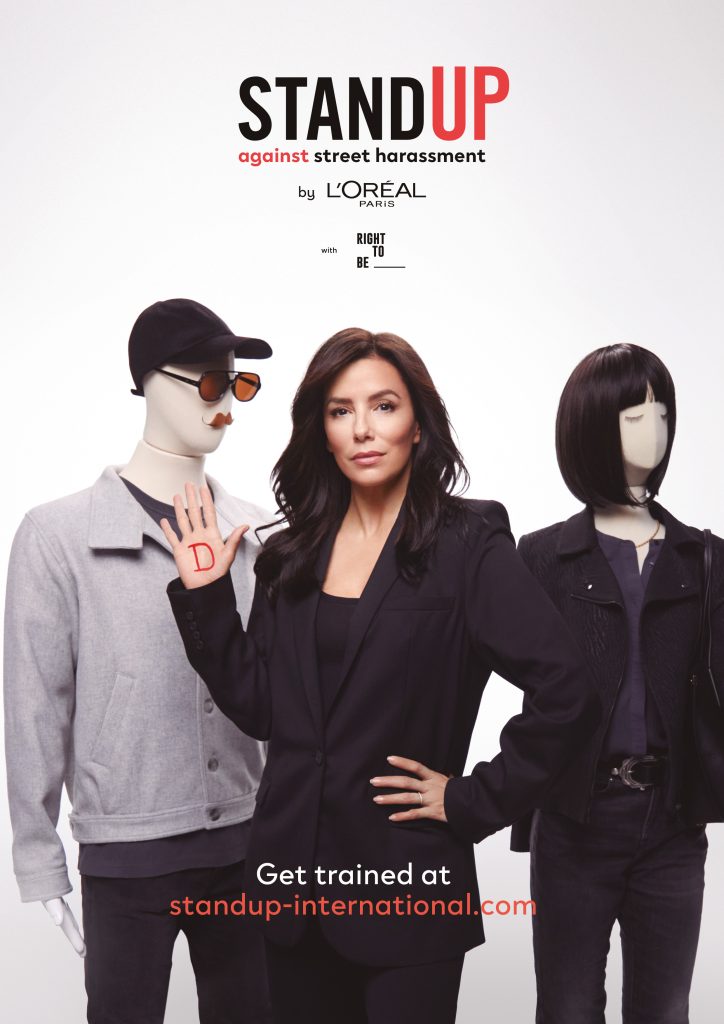 *International survey on sexual harassment in the public space conducted by L'Oréal Paris and Ipsos with 15,000 participants in 15 countries between January and March 2021.
Credits: McCann Paris
President Beauty Team & Co-President McCann Paris: Charlotte Franceries
Creative Chief Officer: Julien Calot
Associate Creative Directors: Agathe Dupasquier, Mateo Fernandez
Creative Team: Dylan Legrand, Gina Winsky, Anthony Ear
Chief Operating Officer: Anne-Sophie Carbo
Production and Post-Production House: Craft
Post-production images: Cathy Argaz, Léa Cossart
Project Manager: Nadia Lasfar, Nadia Smail
Account Team: Kristell Piriou, Marine Monteil, Carolina Herrera
Usage Rights: Caroline Delvincourt, Chintana Salikoun, Célia Martinez
Stock music: from Shutterstock (Building the Future // Klimenko Music & Music-Musique (Broken Dawn // War Tribe – Tribal Tension Vol 2).
Police: Clother
L'Oréal Paris Spokesperson: Eva Longoria
Source: McCann Paris