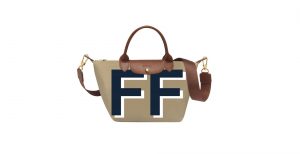 The 3-month selection process ended with Longchamp choosing FF to manage the brand's global communications strategy and development.
When Longchamp, the iconic brand founded in 1948, launched a pitch to find a partner to help conceive and implement its evolving international brand image — focusing on the American and Chinese markets — FF was the solid choice.
FF — the independent international boutique creative network founded by Fred & Farid — has a flexible, multicultural and multi-skilled team based in the offices of FF Los Angeles, FF New York, FF Paris, and FF Shanghai.
The talents of the network's four international agencies will work synergistically on creating new territory for the classic brand, building on Longchamp's DNA, values and heritage, with the aim of bringing the brand into cultural relevance for its new international targets US and China. FF LA will be in charge of strategy, creative work, and production. FF Paris will drive the commercial relationship and coordinate the teams at the international level. FF Shanghai will be in charge of strategy, adaptation, and implementation in Asia.
Longchamp is the 14th brand, and the 4th French brand specifically to partner with FF Los Angeles since its opening in September 2018. Longchamp joins Benefit, Bliss, Elit, Fridays For Future, G.H. Mumm, HP Computing, HP Graphics, Louis XIII, Roxy, Spotify, Tsingtao, Tara, and Sea Shepherd.
Sophie Delafontaine, Longchamp's Creative Director, said: "FF's expertise is invaluable to us as we bolster our deployment in China and the United States and make the brand even more digital to attract new targets."
Fred & Farid – Founders/Co-CEOs of FF commented: "At FF we are all in love with the Longchamp brand, its products… and now its teams. It's an honor for us to be able to be a small part of this wonderful French adventure".
Séverine Autret – Managing Director of FF Paris said: "The fact that Longchamp chose FF is a tribute to our agency model: light, international, connected, rooted in culture. We look forward to building a long-term partnership with this great brand."
Feng Huang – CEO, Managing Director of FF Shanghai added: "Longchamp has a great image today in China. Here, its 'Le Pliage' model is called 'The French Dumpling Bag'. It is always a pleasure for FF Shanghai to help French brands shine in China".
The first campaign resulting from the collaboration between Longchamp and FF will be released before the summer of 2020.
Source: FF Los Angeles