There's nothing quite like the World Cup on the horizon to put a spring into everybody's step. This sense of fun and anticipation is perfectly captured in Qatar Airways' first World Cup campaign, which is made by the airline's agency of record, 180 Kingsday.
It features a re-recording of the classic song 'Dancing in the Streets' with singer and TV star Nicole Scherzinger – best known as judge on both the UK and US's X-Factor. The result is an upbeat and infectiously fun-filled 'musical' style TV commercial, backed by a global media spend.
The campaign called 'All Together Now' is a complete visual identity and branding for Qatar Airways' World Cup sponsorship, which covers design, print, online, OOH, social – but is led by a 60 second TVC that sees the world singing and dancing along to the iconic song. The musical caper features dancing fans of all ages and ethnicities singing cabin crew in Doha and dancing match stewards and mascots in Russia.
Sander Volten, CEO at 180 Kingsday says: "Every four years this amazing event happens where we can suddenly all come together as one through the medium of football. To celebrate this, we wanted to make something fun, that would make us smile, to embody the sense of togetherness, excitement and feverish anticipation we're all feeling at this time."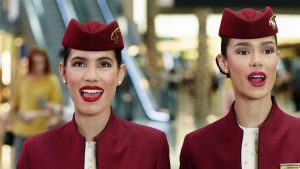 Qatar Airways Senior Vice President of Marketing and Corporate Communications, Ms. Salam Al Shawa, says: "Like millions of fans around the world we are getting ready for the best summer of football ever. We want fans to feel the fun-filled vibe that we have created with our new commercial and celebrate with us in the run up to the World Cup. Our goal is to inspire people to dance, dream and be happy as they come together from around the world for this celebration of football."
The TV commercial was shot by award winning director collective Traktor, and was lit by legendary Director of Photography Tim Maurice-Jones – who was the cinematographer on movies such as Snatch, Lock Stock & Two Smoking Barrels and Kick Ass.
Qatar Airways is one of the official partners of the FIFA World Cup as well as the official airline. The 'All Together Now' campaign will be highly visible at the FIFA World Cup, which starts on the 14th of June 2018, and it will run across all major global markets from the 29th of May 2018.
The campaign is supported by a social media competition called #OnYourFeet, where fans can upload videos of themselves doing football tricks onto Instagram.
Source: 180 Kingsday