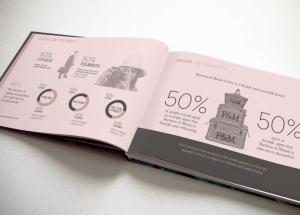 The most luxurious store in the world, since 1707, Fortnum & Mason approached The Yard Creative to help them learn more about their customer base and to discover how recent initiatives had changed customer perception of the brand.
The customer research activities that The Yard Creative undertook on behalf of Fortnum & Mason needed to capture the widest range of viewpoints possible, so a survey was designed that would shed light on the demographics of the customer base as well as other insights such as in-store customer experience, brand perception, drivers and purchase behaviour.
The survey was then sent to a selected group of the Fortnum & Mason CRM database and web ambassadors. The team then donned cameras and microphones and hit the streets of London armed with vouchers for a complimentary pot of Fortnum & Mason tea for participants to share their thoughts and feelings.
The response to the survey was immense; within a week of starting the research, a staggering 1,616 surveys were completed. The willingness and openness of people to participate really helped to unearth valuable insights about the Fortnum & Mason customer base.
The findings, observations and opportunities were captured in a beautifully designed report that was presented to the Fortnum & Mason Board.