RPM, the London-based experience agency, founded in 1993 by Hugh Robertson, has announced its successful certification as a B Corporation after an extensive and rigorous verification process by B Labs.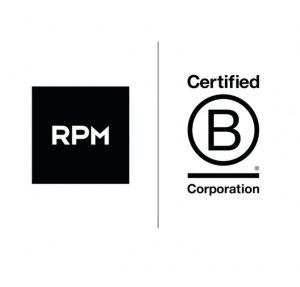 B Corporations are businesses that commit to being a force good in the world by putting people and the planet on equal footing with profit, and by taking steps to limit or eradicate any negative impact of their business activities.
RPM have long been a leading organisation in workplace culture and for the last decade the senior team have taken a proactive stance on the environmental impact of their experiential work through changing production processes, working with partners who meet high standards of sourcing, and helping clients make the most sustainable choices.
"Becoming a B Corporation is a natural evolution for RPM," says Hugh Robertson, Co-Founder & CEO, "Our founding principle thirty years ago was to create a business that felt deeply responsible for its people and its work – being the change we wanted to see in the world.  Now, through our B Corp certification, we feel that mantra is renewed, and we have a framework to help us continually improve and ensure we do the best we can for our people, our clients and the planet"
As a B Corp certified business, the agency will maintain and enhance their social and environmental performance through impact assessments and working alongside the B Corp framework to:
To be accountable and transparent in our social and environmental activities
To put people and the planet on equal footing with profit when making management decisions
To strive for continuous improvement
To lead the way as global experience agency certified as a B Corp
Chris Turner, Executive Director of B Lab UK, says: "Being able to welcome RPM to the B Corp community is hugely exciting. Their commitment to doing business differently will be an inspiration to others and really help spread the idea that we can redefine success in business to be as much about people and planet as it is about profit". 
Managing Director, Dom Robertson, says: "We are immensely proud of becoming a part of the B Corp Community as we believe it pushes us to continually improve our how we work to ensure our business is a real force for good. It will affect every part of the agency from how we approach design and source sustainably through to supporting our community and empowering our team.   A key driver for us in 2021 and beyond is that we can use our place in the B Corp community to help us work with and influence our clients to make the right decisions within the areas of our control. We hope in time to work with fellow B-Corps but in the meantime, we will continue to ensure our busines is a good business"
Source: RPM