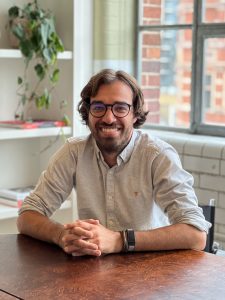 Luke Boudour has been appointed by GOA, as Chief Experience Officer (CXO). Reporting into CEO and Co-founder Dan Chorlton he will be responsible for evolving, revolutionising and overseeing the customer journey from onboarding to ongoing care. The aim is to ensure all clients continue to receive the best possible experience (CX) from both the platform and team.
In this newly created role, Luke will be tasked with developing training plans, formulating playbooks and compiling testing plans to drive Paid Search success across GOA's diverse client base. Thus ensuring that GOA remains at the forefront of every client's Paid Search optimisation strategy.
The appointment follows a number of recent high-profile business wins for GOA, including a 12-month contract with PHD Global to perform full-scale reviews of its clients' search account data to find the most valuable optimisations. It will additionally reduce resource levels required to manage said accounts through automation of insights, acceleration of analysis and testing cycles, and delivery of strategic insight for decision support.
GOA was selected for its proven ability to maximise profitability for PHD's end customers. GOA and PHD Global have worked together in the UK for the past four years and globally for two, limiting efficiencies and improving the quality of paid search operations for the likes of Diageo. The continued collaboration will see GOA's platform extended to additional PHD clients including Sanofi, Bentley, Dermalogica and HSBC.
Luke brings over a decade of experience leading the execution of multi-channel strategies both agency-side and in-house. He joins from high growth start-up Lick, an on-trend lifestyle DTC brand, where he held the role of Head of Acquisition and Retention. Prior to this, whilst working at eCommerce retailer Not On The High Street, he was responsible for building and cultivating an in-house digital team, ultimately furnishing multi-million-pound improvements in profit. In partnership with GOA, the two improved performance by 140% in the first five months. Over a four-year period, they delivered the marketplace a 102% improvement in non-brand traffic and an 89% uplift in sales conversion.
Dan Chorlton, CEO and co-founder, GOA explained:
"During a time when our industry is facing one of its greatest challenges, the digital skills gap, it is more difficult to find specialists who not only possess a data-driven and analytical mindset but also have a knack for anticipating and meeting the needs of their customers. Since meeting Luke as part of our partnership with Not On The High Street, I have been impressed by his expertise in both disciplines. Especially as we embark on our work with PHD Global, I have no doubt that Luke will be a real asset in driving deeper relationships with our clients."
Luke Boudour, Chief Experience Officer, GOA, added:
"Right now, paid search is going through some seismic shifts. In this ever-changing landscape, many businesses face the daily challenge of keeping their PPC campaigns running efficiently whilst being profitable. GOA's technology and its ability to help advertisers fully understand and efficiently optimise the health of their paid search is a real game-changer. With the support of an expert, businesses can drive real-world tangible change. GOA is perfectly poised to become a leading company within the paid search landscape, and I'm looking forward to playing a role in helping it to achieve that goal."
Source: GOA