American pro golfer Rickie Fowler is the new face behind Grant Thornton's new TV campaign.
Fowler, the eighth-ranked golfer in the world and a Grant Thornton sports ambassador, will star in a 30-second spot for the firm, which will air during the Dell Technologies Match Play Tournament on March 24, 2018.
In the spot, Fowler is seen lining up a shot. His caddie offers an unusual suggestion when Fowler asks which club he should use. Copy reads: "Need solutions that make sense? Discover Grant Thornton."
"What we hear from our clients is they're tired of buzzwords and solutions not tailored to them. At Grant Thornton, we cut out the unnecessary jargon. We pride ourselves on being both practical and personal," said John Harmeling, CMO, Grant Thornton. "Like Rickie, our firm is focused on getting the job done, and having a little fun along the way. This spot showcases Grant Thornton as the refreshing and pragmatic counterpoint to what people expect from professional services – and that's what Status Go is all about."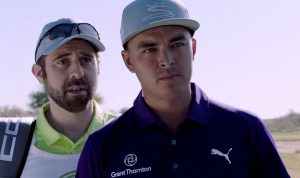 Created by gyro Chicago/Denver, the spot is the first of a new "Obvious Change" campaign which falls under the umbrella of Grant Thornton's "Status Go" brand platform. "Status Go" is about challenging the status quo in a forward-thinking and difference-making way.
"This ad is not expected and that's what we wanted to communicate for Grant Thornton – especially when they feature someone like Fowler who, like Grant Thornton, is known for his innovative, unconventional and exceedingly personable ways," said Doug Kamp, Executive Creative Director of gyro Chicago/Denver.
In addition to its sponsorship with Fowler, the campaign ladders up to Grant Thornton's partnerships with the PGA Tour and The Players Championship.
Source: gyro