Habito, the pioneering online mortgage broker, has unveiled the second phase of its new disruptive advertising campaign 'Hell or Habito', led by Uncommon Creative Studio.
Following on from the roll-out of OOH posters on 10 September, a new TV ad will air on Monday 24 September and will focus on the hellish cost often associated with mortgages.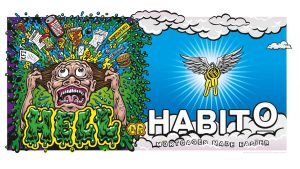 The animated spot opens with an unsuspecting protagonist about to start the mortgage application process. The situation takes a sinister turn as hundreds of hands clamber over him to grab his wallet, steal his loose change before moving up to his face and ripping out his gold tooth.
The ad which is set to "Machine Gun" – a track by Dutch band Noisia – becomes more and more hellish as the indiscriminate hands eventually steal the man's spine and, ultimately, his soul. He manages to reach  for his tablet just in time to pull up the Habito website, from which heavenly, winged keys rise up to guide him to homeowner heaven.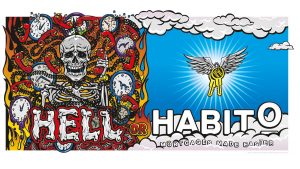 Abba Newbery, Chief Marketing Officer at Habito said "As with our posters, the TV creative is loud, bold and humorous – something you just don't come across in the world of mortgage advertising. We really hope that, while heavily dramatised, our animation resonates with people. We know that people are currently overpaying, that they suffer from mortgage stress, that they're confused by the whole process. At Habito, we're changing that – less cost, less time, less jargon. It's the way mortgages should be."
Nils Leonard, Uncommon founder, added: "Is getting a mortgage sometimes so stressful that you feel like 100 evil dead hands are robbing you of everything including your teeth and pulling your soul out of your body? Honestly, sometimes."
Source: Uncommon Creative Studio