Want to be besties with your kids this Christmas? Help is at hand in the form of SpeakEmoji.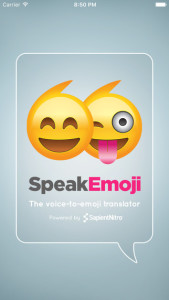 As a way to round off the year in which emojis took over the world and became Britain's fastest growing language, SapientNitro is launching SpeakEmoji to help parents and relatives break through the kids' smartphone trance by speaking to them in their own language – emoji – and in doing so, make Christmas the meaningful family time it's supposed to be.
SpeakEmoji translates grown-up speak into cool emoji messages to help adults engage with their festive little 'digital natives'. If kids won't come to Christmas, maybe we can take Christmas to the kids.
Available on iOS, Android and web, SpeakEmoji is the world's first voice-to-emoji translator. Users simply tap the microphone icon to activate. They then speak into their smartphone and their words are translated and represented on-screen in a series of emojis.
The user then has the option to share the simple emoji phrase via Facebook, Twitter, Messenger, SMS or email. Upon receipt of the emoji phrase, the recipient can either reply in emoji, or (if they are unable to decipher the message) translate the emoji phrase to text.