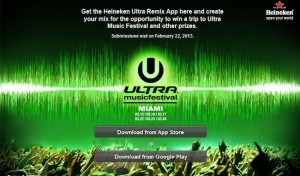 Heineken, the official beer sponsor of ULTRA MUSIC FESTIVAL, happening March 15-17 and March 22-24, 2013 at Bayfront Park in Miami, is transforming the beer line into the ultimate festival experience with its latest activation.
Making its debut at the 15th anniversary of the famous event, the Heineken House delivers a world of electronic dance music (EDM) entertainment and star service to guests, ages 21 and over, as their ice-cold Heinekens are being poured.
Complete with LED lighting, low-hanging fog, air conditioning and projections of ULTRA stage feeds, the structure is designed to immerse guests into a complete audio and visual experience that ensures they don't miss any of the action. The Heineken House will provide a premium pouring service with special hosts to accompany guests from entry to exit.
"Heineken has been a proud sponsor of ULTRA MUSIC FESTIVAL for six years and knows attendees expect cutting-edge experiences that enhance the EDM-festival ambiance," said Leanne Maciel , Manager of Sponsorships and Activation, Heineken USA.
"With this activation, we've transformed the beer line into the festival destination, giving attendees an immersive experience every time they purchase a beer so they don't miss a beat."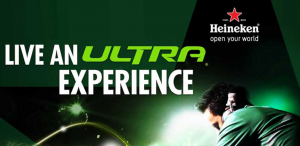 As the premier sponsor of the ULTRA MUSIC FESTIVAL, Heineken and Heineken Light will also be on tap across the festival grounds.
Beyond the new structure, consumers can purchase and enjoy Heineken at the Heineken Light Star Bar, complete with lounges and live projections of the festival performances.
At the Heineken Light Pavilion, a line-up of eight additional bars featuring 32 handles of Heineken and Heineken Light will be ready to deliver world-class taste with the perfect pour.
Bringing ULTRA-experiences to fans beyond festival grounds, Heineken launched the Ultra Remix App to invite music enthusiasts to test their mixing skills and create personalized tracks from their mobile device.
Designed for all skill levels, the App features multiple channels and a unique selection of audio files to mix with. The first remix available on the App is by Ultra performer, DJ WhiteNoize.