Most films try to make an impact. This one tried to make none at all.
The race is on for the world to deliver its goal of achieving net-zero carbon emissions by 2050, and keep global warming to 1.5 degrees celsius.
On 31st October, world leaders from 197 countries plus the EU, will meet in Glasgow for COP26, the 26th United Nations Climate Change Conference to accelerate action towards the goals of the Paris Climate Agreement and the UN Framework Convention on Climate Change. It is among the largest international meetings in the world with complex negotiations between governments involving officials from every country as well as business leaders and the global news media.
Hitachi – Racing To Zero from Mamapöol on Vimeo.
As a Principal Partner of the conference, Hitachi has launched 'Racing to Zero', believed to be the world's first ever Carbon Zero powered film to showcase their commitment to clean mobility solutions. The film will run on global digital channels from 15th October with media buy by Universal McCann. It will also be shown at COP26 in Glasgow from 1st November to 12th November in a dedicated IMAX cinema.
'Racing to Zero' was created by independent creative agency Mamapöol, directed by Ivan Bird (Sexy Beast, Guinness Surfer DoP) through Rattling Stick, with voiceover by Oscar winning Director, Sir Sam Mendes. It is powered entirely by cyclists and a solar powered generator, with zero carbon emissions.
It is set on a beach, at night. Opening in the dark, a cyclist slowly approaches her bike, and starts to pedal. The harder she pedals, the more the lights rise, slowly revealing two further cyclists, each pedalling hard. Finally, a connected projector lights up the cliff behind showing a Hitachi battery train thundering past. The projection reveals all the low carbon transport options Hitachi has been working on for years, before revealing that the film was powered with zero carbon emissions. Sir Sam's voiceover relays the importance of 'doing', not just talking about, 'carbon zero'.
Hitachi is aiming to become a climate change innovator – helping governments, cities and companies cut carbon. The breadth of Hitachi allows them to combine information technology, operational know-how and physical products to tackle climate change – and ultimately improve people's quality of life. They are applying that same innovation to their own business to become carbon neutral in all their factory operations and offices by 2030, and across their much wider supply chain by 2050.
Hans Daems, Marketing Director, Hitachi Europe said: "As a Principal Partner of COP26, we very much hope that it will inspire momentum around global climate action. With this film, we wanted to create something meaningful which not only inspires others but also highlights just some of what is needed to help achieve a low carbon future. At Hitachi we have actively oriented our business towards the sustainable technology of the future, in order to become a climate change innovator and help governments, cities and our customers cut carbon. Transport is a critical part of that, and making this film firmly underlined what can be done, but also how much work there still is to do. We were absolutely committed to making a zero carbon powered film and the collaboration needed to achieve this – from absolutely everyone on set to suppliers and the teams behind the scenes was incredible."
Mamapöol Strategic Partner, Tom Pinsent: "For years climate change conferences have involved a lot of conversation and goal setting. The time has clearly come though, in the words of Elvis for 'a little less conversation, a little more action'. We had to live that message ourselves, and demonstrate what could be done."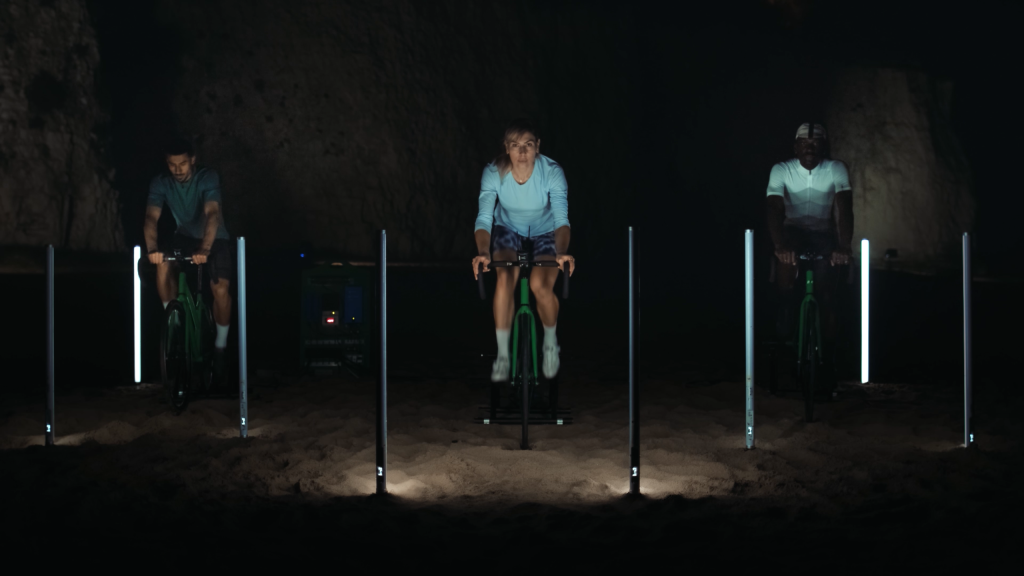 Mamapöol Creative Partner, Jason Mendes added: "The creative challenge to attempt to actually power the world's first Carbon Zero film seemed an obvious way to 'do' not 'talk'. The film itself is essentially a metaphor for what Hitachi does as a global company. Which is, a lot of people exerting a lot of effort to make this world a more sustainable one. And we wanted this to work on a human level, because everyone can play their part. Everyone has to play their part."
Ivan Bird, Director and DOP, Rattling Stick: "Authenticity was really important in this film. So many people talk about carbon neutrality and pay lip service. We generated every single watt of power on set, which was key to the integrity of the film. It wasn't easy as we were dealing with very low levels of power, the projector had 7 cyclists (3 on camera, 4 off) creating the power – so it couldn't be Leicester Square levels of luminance. We considered a studio, it would have made our lives considerably easier, but we thought it was important for the message that we were in the environment we were trying to protect"
Sir Sam Mendes said:  'I'm proud that 1917 was the first carbon neutral film made in the UK. However, carbon emissions generated from feature film production and distribution remain substantial, so the opportunity to get involved in a project aiming for zero carbon emissions was one I wanted to support. 
This film highlights that beyond governments every industry and individual can play their part in making our planet greener, offering examples of ways in which it's possible to reduce emissions. It's a privilege to lend my voice to the project and speak in some small way to those attending COP26 and beyond.' 
The whole production was fully carbon audited and certified by Natural Capital Partners working with an independent assessor. Adgreen also helped in the initial consultation.
CREDITS:
Brand: Hitachi
Hitachi Marketing Team: Hans Daems, Simon Crouch, Kelly Smith, Mioka Suzuki,
Candida Cereda, Helen Grundy & Eleanor Middleweek
Hitachi Rail: Kendra Ayling
Creative Agency: Mamapool
Creative Directors: Jason Mendes & Richard Russell
Creatives: Joe Melvin & Conor Hamil
Strategic Director: Tom Pinsent
Production Company: Rattling Stick
Director: Ivan Bird
DOP: Ivan Bird
Exec Producer: Johnnie Frankel
Producer: Polly Du Plessis & Josie Juneau
Production Manager: Alice Winderler
Editor: Vanessa Wood @ Marshall Street Editors
Music & Sound: Nick Rapaccioli
Post Production: Absolute
VO artists: Sir Sam Mendes
Sound Studio: Bark Soho
Sound Editor: James Benn
Source: Mamapöol