London-based ad agency isobel, who are famous for creating extraordinary Xmas cards featuring every member of the company in a variety of weird and wonderful tableaux, have come up with a unique solution to continuing the festive tradition whilst remaining appropriately distanced and Covid-safe.
Put simply – they shrunk the staff and created 7" high bobblehead models of the entire agency! And if that wasn't enough, the also built an exact scale model of the agency's reception complete with sofa, lighting and framed pictures of the previous year's agency Xmas cards.
"Our Xmas card is massively important to the agency and we didn't want to lose the group spirit" said Rob Fletcher, Executive Creative Director and co-Founder, isobel "Each year we come together, dress up, get into character and create unique photographic moments. And whilst we couldn't do that this year we still wanted to keep that energy of 'togerthness' and so we got creative, crafted some models and created a group photograph – in spite of the restrictions. Next year we'll all be back in person but it's a salient reminder of a year that has challenged every creative business to think and behave differently."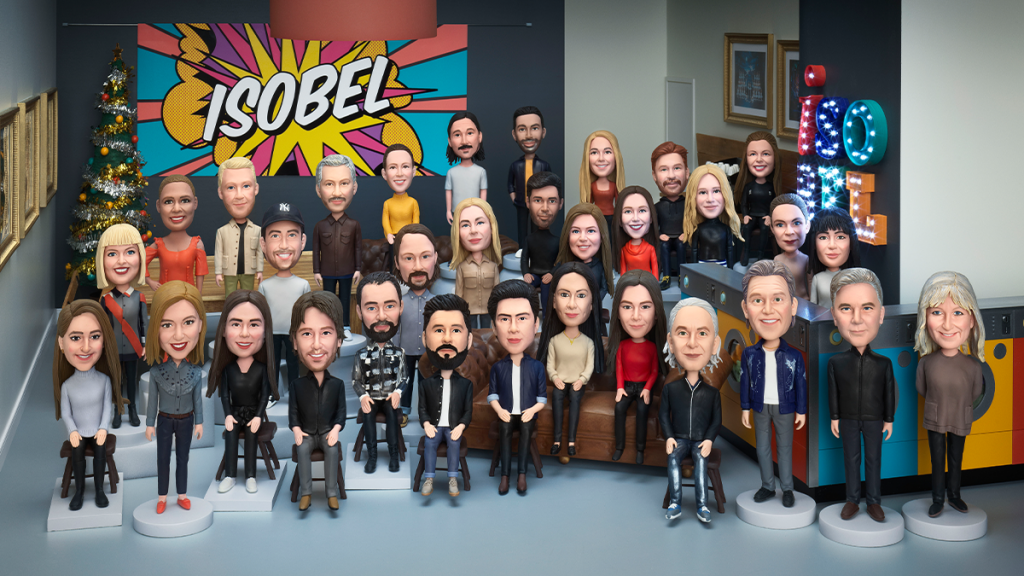 Photographed by Paul Thompson and created with no software intervention or manipulation – previous incarnations of the award-winning isobel Xmas card have brought to life a rich and eclectic mix of tableaux and scenarios including: Glee, The Salvation Army, Dutch Master, Swan Lake, Primary School, Peter Pan and 1970's Accountants- complete with stained carpet and sparse tinsel.
Source: isobel