Within the framework of an awareness campaign on the need to stop postponing annual breast exams, more than 30 Argentine NGOs* leaders in cancer awareness, communicated this past Oct 19th the joint decision to postpone World Breast Cancer Day, and then continue to postpone it day after day for two weeks. The action, which generated a strong impact in the media, seeks to raise awareness of the problem that implies that thousands of women postpone their annual breast check ups until they are forgotten, losing the valuable opportunity of early detection and, therefore, decreasing the expectation of overcoming the disease.
Under the hashtag #NoTePostergues (#DontPostponeYourself), the campaign created by Grey Argentina historically brought together the joint action of more than 30 civil society organizations (including LALCEC and MACMA) and attempts to exponentially multiply the conversation of what is normally a single day a year of awareness with the addition of an extra day of campaign for each day postponed. In parallel and during each day of postponement, a massive national campaign of free mammograms is carried out so that this year thousands of breast check-ups are finally no longer postponed.
To achieve this specific objective, the initiative obtained the support of Adecra+Cedim (the Association of Clinics, Sanatoriums and Private Hospitals of the Argentine Republic and the Chamber of Diagnosis and Outpatient Treatment Entities). Thus, a group of associated health centers from different parts of the country made available hundreds of free screenings and treatments, such as mammograms and radiant therapy, for people who do not have prepaid or social health coverage.
"This campaign shows the power of a simple idea which becomes news and impacts by its own weight in the conversation… multiplying by 13. The best of all is that it does not stop with awareness: each day postponed is also a day gained from mammograms and free check-ups that finally stop being postponed." explained Florencia Kessler, Chief Reputation Officer of Grey LATAM.
The campaign also extends to actions on social networks with influencers and celebrities from different backgrounds sharing experiences and personal reflections on the disease and anchor in first person the imperative message of not postponing annual breast checkups. The message was also supported by the AFA (Argentina Football Association) with all the first division teams holding banners with the campaign's message and hashtag prior to each match on the last defining day of the Argentine Tournament.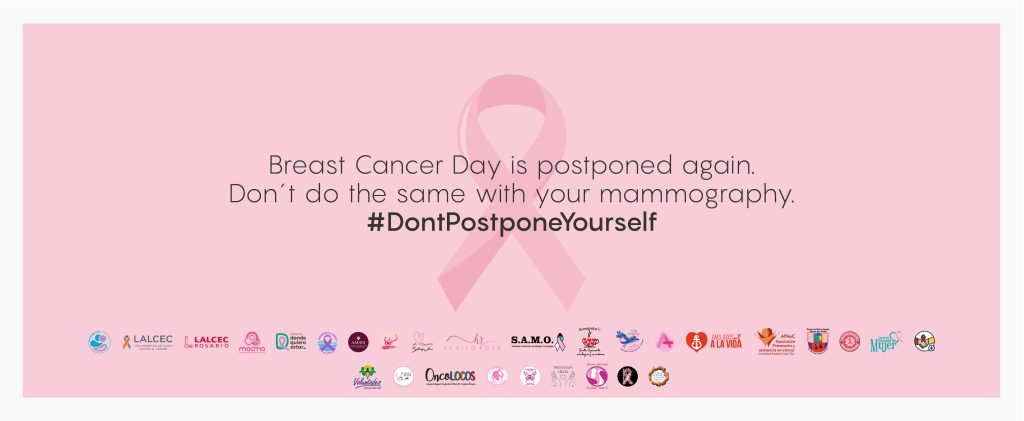 "For LALCEC, postponing the International Breast Cancer Awareness Day was a very big challenge. We are very happy to be able to carry out this campaign with more than 30 NGOs that continue to postpone the day, so that thousands of mammograms are no longer postponed. We want to thank everyone who made this campaign possible, especially the committed NGOs and all those replicators and external participants. Special mention for Grey, who has been a fundamental partner in being able to carry out the campaign and make it so massive", concluded Bruno Nascimbene, Executive Director of LALCEC.
In the end, World Breast Cancer Day was postponed until November 1st in search of a historic 13-day awareness campaign and a record number of mammograms and breast check-ups that are no longer postponed.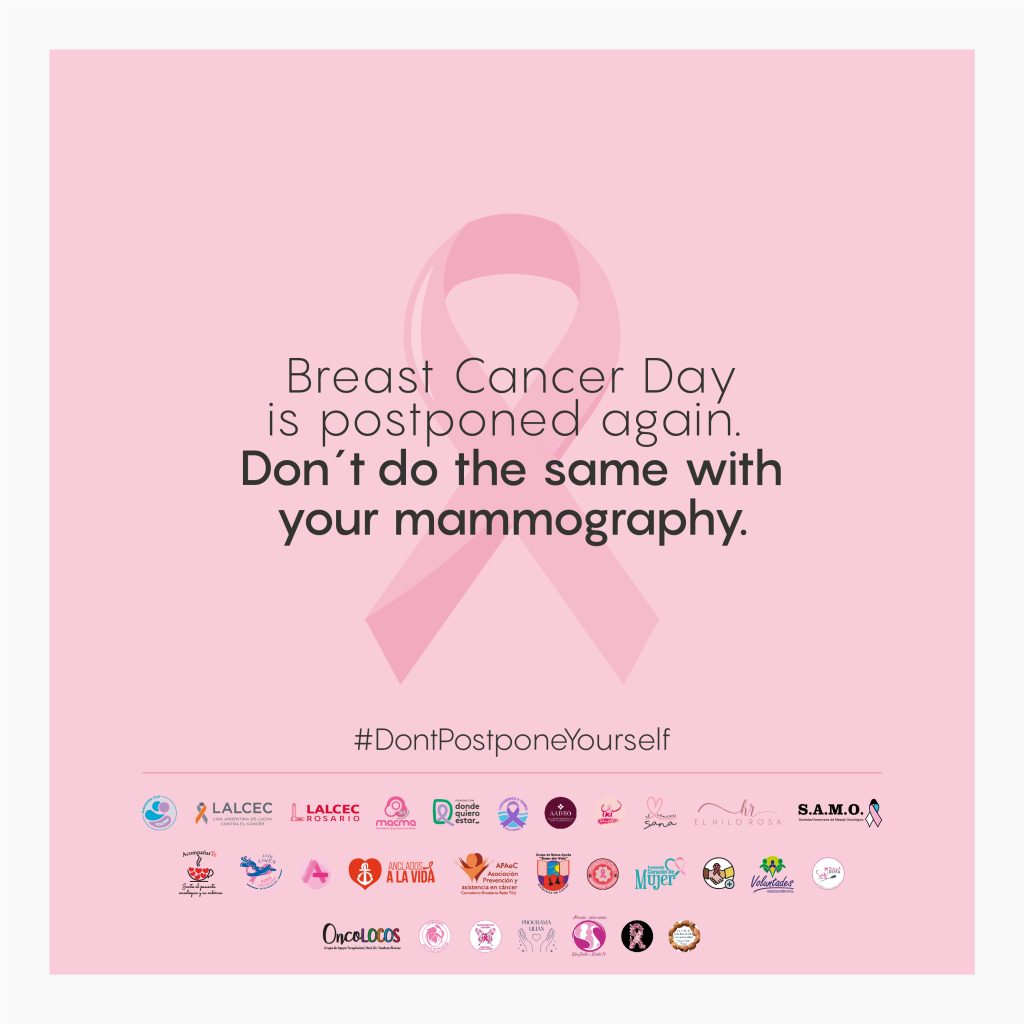 *LALCEC; SOSTÉN; DONDE QUIERO ESTAR; MACMA; LLEGAREMOS A TIEMPO; EL CÁNCER SANA; ACOMPAÑAR TE; ONCOLOCOS; PROGRAMA LILIAN; EL HILO ROSA; ABRAZOS PARA SANAR; NAHUEL ROSA; WIKICANCER; CONTACTAR ONCOLOGÍA; LALCEC ROSARIO; SAMO; VOLUNTADES; FUNDACIÓN MANDINGA; GRUPO BUEN DIA VIDA; PROYECTO LUCY; PACIENTES EN ACCIÓN; GRUPO VIDA NUEVA; ANCLADOS A LA VIDA; PREV. Y ASIST. EN CÁNCER; AADEO; AMADAS; AIUN KAWEN; LALCEC LA SANTA ROSA y FUNDACIÓN CORAZÓN DE MUJER.
Credits
Title: The Postponed Day
Client: LALCEC & Unidos por el Cáncer
Client Approval: Martín Fleming, Bruno Nascimbene, María Alejandra Iglesias
Agency: Grey Argentina
Global CCO: Javier Campopiano
President – CCO Latam: Diego Medvedocky
CEO: Denise Orman
CCO: Hernán Kritzer, Alejandro Devoto
ECD: Juan Ure, Gonzalo "Montaña" Fernández
Creative Directors: Ezequiel Irureta, Sergio Rio León
Creative Team: Juan Manuel Carnelos y Leandro Mingrone
PR Director: Florencia Kessler
Business VP & Chief Growth Officer: Agustin Castellanos
Project Manager: Ivana Benozzi
Head of Craft: Diego Urbano
Design Lead: Trinidad Colombo
Heads of Strategy.: Romina Perrone, Ana Etcheto
Brand Strategist: Clara Noussan
Social Media Lead: Mar Canosa
Head of Production: Pablo Molina
Camera and Edition: Sebastian Garri
Editor: Diego Faur
Motion Graphics: Ezequiel Ferraro
Production Assistant: Wanda Davenport
Source: Grey Argentina