Raising awareness of the charity Hands On London's 8th annual coat collection, Wrap Up London, global brand experience agency Sense extends its award-winning 'Wrapping Up' campaign across the UK this week – dressing famous statues throughout London, Birmingham and Manchester in the iconic red coats across for 2018.
The initiative reduces cold-related winter deaths by encouraging people to donate their unwanted coats, which are distributed to local community groups, supporting the homeless, refugees, the elderly and people fleeing domestic violence. Last year, generous Londoners donated over 20,000 coats via collections at tube stations, schools, places of worship and over 100 companies.
More than 100 groups have benefited to date, while the Wrap Up Family has grown to encompass Manchester (now in its third year), Birmingham and Glasgow, where Hands On London is working in partnership with leading Muslim faith-based charity Human Appeal. Newport and Lancashire are coming on board for 2018, with Hands On London working in association with Pride in Pill and the Rotary Club respectively.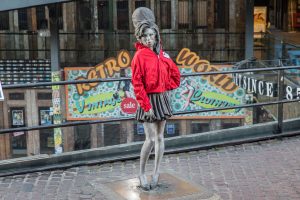 "Again, Sense will be dressing iconic London statues in coats and scarves as part of the awareness drive," explained Sense Deputy MD Lou Garrod. "The award-winning pro bono activity is part of our annual #notimetowaste initiative, which had such an impact in London in 2017 that this year residents in Manchester and Birmingham will also see their most exposed residents, each city's iconic statues, wrapped up against the cold."
Commenting on the campaign, Hands On London CEO Jon Meech said: "Each year, the crisis in our cities increases. Recent research by the Bureau of Investigative Journalism showed that at least 449 homeless people have died in the UK over the past 12 months – more than one a day. And this figure is likely to be a substantial underestimate as no official organisation counts homeless deaths in Britain. We have a huge demand for coats, especially for men. However, this is not just about those sleeping on our streets at night; the crisis is closer to us than we think. We received requests last year for more children's coats, as in some areas there are children going to school in the winter months wearing just a shirt or jumper. These children should have something as basic as a coat."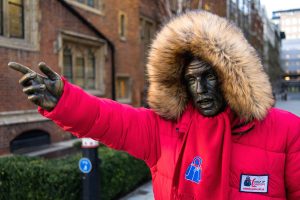 Hands On London founder Elizabeth Grier added: "I am delighted that this year we continue to widen our Wrap Up campaign to more cities across the UK so we can help even more people stay warm this winter. Especially at a time where the country seems to be more divided, this campaign unites us all towards one goal, which is to reduce the number of vulnerable people without a coat. It also showcases the power of action and commitment as this is a huge volunteer-led campaign. Volunteer time is spent collecting coats at nominated stations across the capital and then days sorting and redistributing them. Wrap Up London is one of London's most successful volunteer-led campaigns, with a record number of over 1,000 wonderful volunteers supporting it in 2017."
The Wrap Up London campaign runs from 12-14 November.
Source: Sense