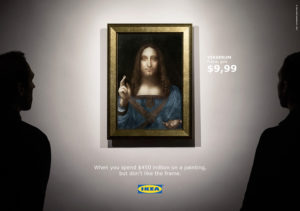 Swedish retailer Ikea has made a name for itself on the reactive marketing front – when news broke that Game of Thrones cast members were wearing its faux fur carpets, it paid tribute to the show. It has now undercut the sale of a 500-year-old antiquity with a compelling print ad.
With the help of ad agency Acne, the brand has marked the sale of a Leonardo da Vinci painting, in particular its eye-watering $450m price tag.
Ikea put forward the proposition that customers need not dole out half a billion dollars to have the Salvatore Mundi painting, an almost priceless relic of the renaissance, in their living rooms.
The retailer notes that for the price of the painting, an esteemed collector could purchase 15 million Billy Bookcases.
Morten Kjaer, creative director, Ikea Creative Hub, said: "At Ikea we believe anyone should have the possibility to decorate their home without spending their life savings. That's why Ikea offers a range of frames that works with any photo, print or painting you want to show off, even those from the 1490s."
Johan Bello, creative director of Acne, added: "We reacted to the Christie's sale in a way people have come to expect from Ikea – a clever post on social media that throws a friendly punch at the art world by highlighting Ikea affordable prices."
Source: The Drum