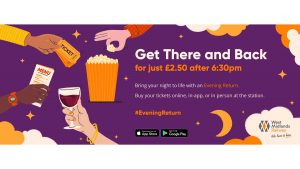 A new media campaign for West Midlands Railway (operated by West Midlands Trains) launches on August 28. Running across OOH, in-station posters and social channels, the campaign kicked off on the Birmingham New Street Media Eye.
Created by Impero, the campaign promotes the train company's evening return ticket, which supports local businesses in the network's region by encouraging people to enjoy themselves by staying out later in Birmingham city centre.
The creative execution promotes the types of leisure activities people can enjoy in the city centre, targeting audiences from within West Midlands Railway's network.
Michael Scantlebury, Creative Director and Founder of Impero, said: "For West Midlands Railway service we wanted to create an earnest, honest campaign positioning the network as the railway brand for the community, bringing to life how it exists to serve the people of the West Midlands."
This work is part of West Midlands Trains' wider 'The Investment Programme' which is a £1billion investment into its West Midlands Railway and London Northwestern Railway services, to improve customer services, grow sales and set its services apart from the competition.
Source: Impero