Independent investment management firm Invesco has revealed a major new EMEA brand campaign. The push was created in partnership with customer agency LIDA, part of M&C Saatchi Group.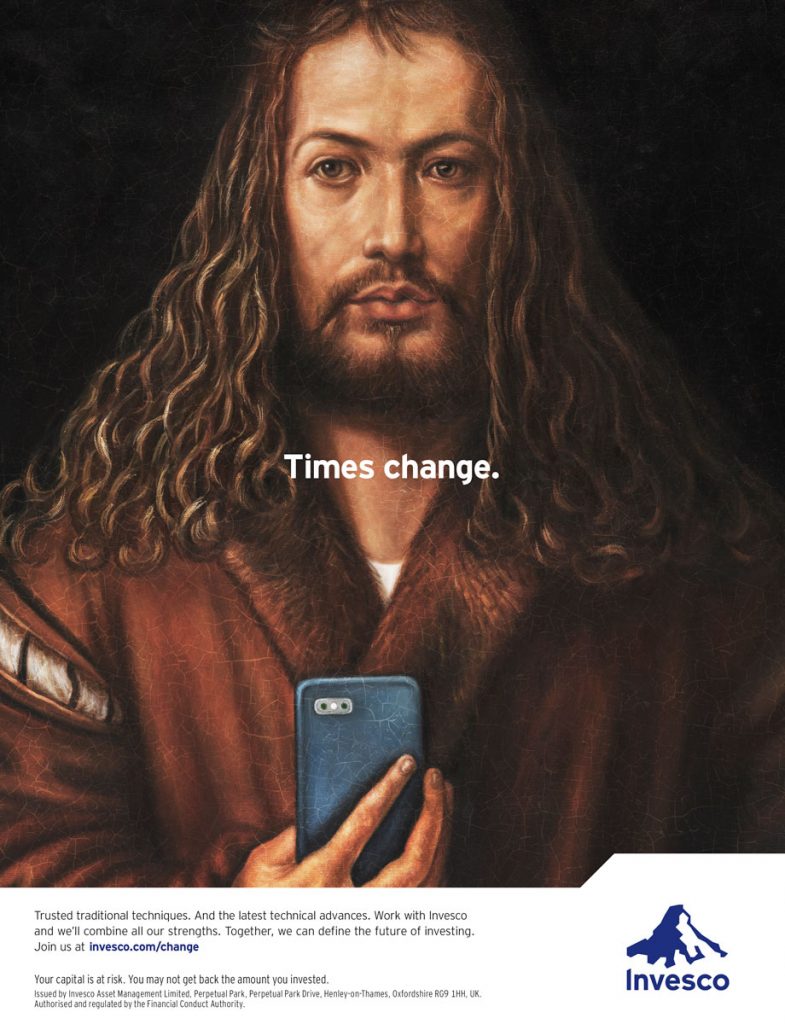 "Times Change" sees some of the Old Masters' most well-known works repainted to include modern technological advancements, as a reflection of Invesco's progressive approach to investment and the way in which it marries traditional techniques with the latest technology.
The classic artworks adapted for the campaign include Durer's 'Self Portrait at Twenty-Eight', where the artist holds an iPhone, giving the impression that the painting is a selfie; Vermeer's 'Girl with a Pearl Earring ', in which the earring is replaced with a Bluetooth headphone; Gainsborough's 'Mr and Mrs Andrews', where the usual landscape is interrupted by wind turbines; Van Dyck's 'Man in Armour', which sees the picture's subject wearing a virtual reality headset; and finally Bougereau's 'Souvenir', where the girl wears a fitness tracker watch.
The push aims to drive consideration for Invesco and position it as a forward-thinking firm amongst an audience of 'influencer innovators'. These progressive individuals are driven by a desire for exploration and discovery.
The campaign is the first to launch based on Invesco's new proposition, 'Greater Possibilities Together' – the way in which it seeks to support its clients with inspiration and education, and to solve new challenges in new ways together.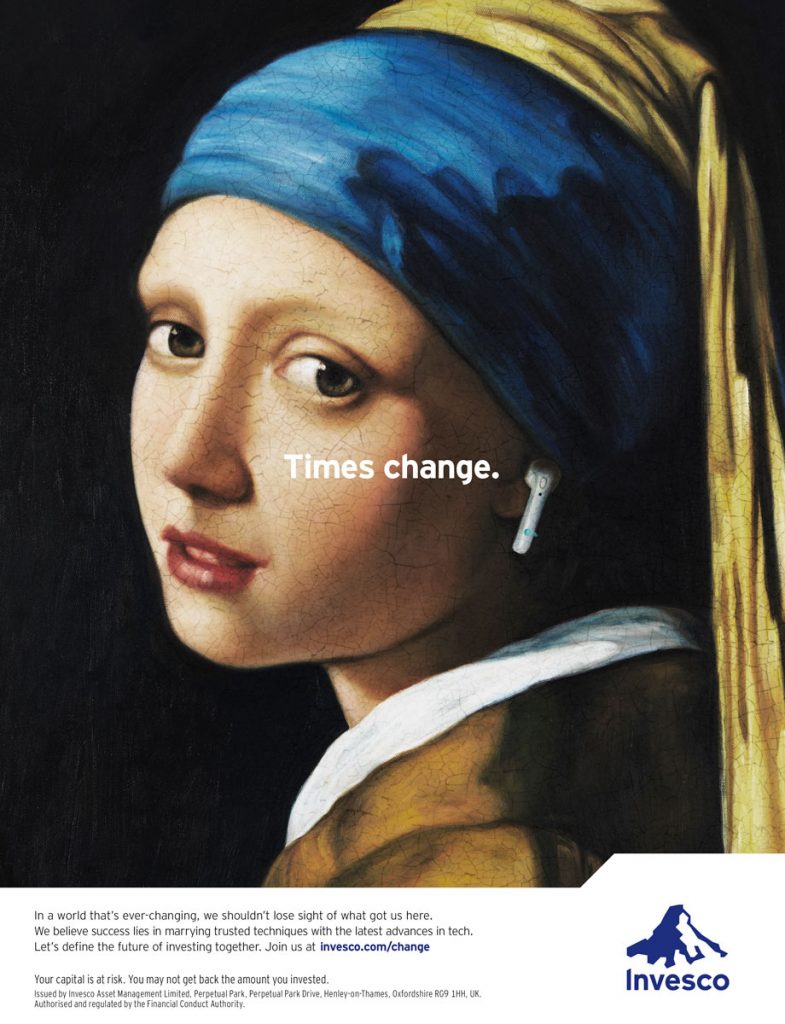 Press, digital and OOH activity will run across key EMEA territories including the UK, Germany, Italy, France, Switzerland, Spain, Benelux, Scandinavia and the Middle East.
Invesco and LIDA will also be hand-painting a 15 x 10 metre mural of their 'Girl with a Pearl Earpod' execution in London's Shoreditch, in order to create buzz around the initiative. All five hand-painted artworks for the campaign will be shown in a gallery in London on 11 November.
Media planning and buying for the campaign is by Ptarmigan. Invesco's in-house agency OLIVER has provided production support.
Matthew Heath, Chief Marketing Officer, Invesco, said: "We're delighted to be launching this bold new brand campaign, the first expression of our new proposition 'Greater Possibilities Together', across EMEA. Working in partnership with LIDA, we've developed a creative platform which should have real stand-out amidst the 'sea of sameness' of investment advertising."
Ben Golik, Chief Creative Officer, LIDA, commented: "Campaigns in the investment sector so often feature stock business clichés. It's been a joy to create work with such creative stand-out. We've clarified Invesco's take on complicated topics such as exchange-traded funds and factor investing with strikingly simple images and two-word headlines."
Tom Kennedy, Senior Art Director, LIDA, added: "This campaign has been a labour of love. To do justice to Invesco's past-meets-future story, it was important to us that we commissioned artists to repaint, not simply retouch, each old master, with our modern interruption."
Source: LIDA